News
Viola Bederak Wins TAG Scholarship
---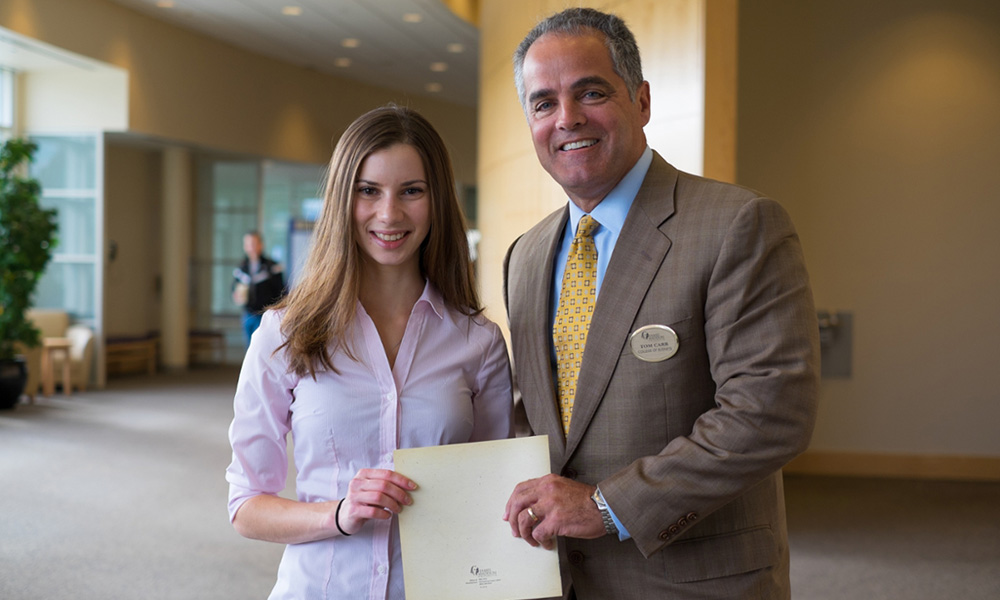 SUMMARY: Viola Bederak receives $1,000 scholarship from successful alumni group, TAG
---
Senior Viola Bederak is the 2014 recipient of the JMU Technology Alumni Group (TAG) Scholarship for $1,000. The scholarship was presented to Bederak by TAG President Thomas Carr on Thursday, October 30, in the Festival Ballroom.
TAG was created 15 years ago and is made up of successful alumni in technology-related fields. They have a goal of gathering alumni together to "share ideas, information and knowledge." TAG has given about $750,000 to JMU since its creation. Over the years, they have provided 22 scholarships, over 200 class presentations, CyberCity sponsorships, campus wireless and InfoSec donations for the CoB.
Bederak is a Computer Information Systems major and a Business Analytics minor. She was the winner of the 2014 Annual Deloitte Case Competition and is currently a Peer Tutor at JMU and a member of the Association for Information Systems (AIS). Bederak is also a Ukrainian native and speaks three different languages. 
Published: Monday, November 10, 2014
Last Updated: Thursday, August 11, 2016