College of Business
Meet Successful Alumnus Maureen Metcalf
---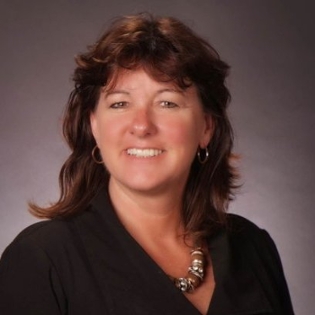 Maureen Metcalf, a 1984 CoB graduate in economics, has found great success in both her personal and professional life.  
While at JMU, Metcalf was a little sister in TKE and part of the economics honor society, ODE.  She also conducted research with Dr. Bob Jerome, Dr. Barkley Rosser, and Dr. Robert Horn.  The research focused on quantifying the productivity residual between the Soviet Union, Japan and the US.  Dr. Horn says of Metcalf, "Maureen was among the best students I have encountered in over 30 years of teaching at JMU.  I am equally impressed with what she has done since graduation… I am glad we have remained in contact all these years."
Metcalf earned an MBA degree at Virginia Polytechnic Institute, then went on to work for PricewaterhouseCoopers and then Accenture.  She left Accenture when they went public.
In 2001, after working on many large change initiatives and gaining valuable consulting skills, Metcalf decided to start her own consulting firm, Metcalf & Associates Inc.  She found inspiration in starting this firm when she experienced a dramatic change in the industry she worked within and at the same time saw a missing element in the commonly used change process used with clients. She wanted more autonomy than a large firm provided to do research and create new solutions to address gaps that surfaced when implementing the most complex system changes.   
Metcalf says, "Starting my own company gave me more freedom to research, consult, and teach in an MBA program."  Metcalf & Associates, Inc., gained so much success that the organization Net Worth approached her to be featured on their show, hosted by Terry Bradshaw, a former Pittsburgh Steelers quarterback who won four Super Bowls. Net Worth chooses companies that do innovative work and make an impact in their sector, and Metcalf calls it an honor to be one of their featured companies.
Metcalf says her naiveté about the demands of starting and running a small company was a benefit when starting her business.  Through her experiences with Metcalf & Associates, Inc., she has been able to continue her to consult, coach, research, teach, and write extensively.  In 2011, Metcalf was frustrated when she couldn't find a single textbook to teach an MBA class on leadership, instead she was using several books which became expensive for students.   
So she published her first book, "Innovative Leadership Fieldbook," which outlines a six-step process to develop strong leadership qualities.  "Innovative Leadership Fieldbook" ended up winning the International Book Award for best business reference books.  Since then, she has co-authored five workbooks and written one additional text book. These books are used widely in both corporate education and graduate programs. She enjoyed having books that directly support her client work by providing practical frameworks and real life examples.  Metcalf found that her undergraduate research classes gave her the necessary foundation to write. 
Metcalf credits her success to the "deep and enduring relationships and friendships" she has had.  Metcalf says, "While I am proud of my professional accomplishments, much of the joy I have experienced in life is due to the people who have shared this journey with me, providing continuing support and encouragement and most importantly making me laugh."  
By Colleen Lyons, Communication Studies '16
Published: Wednesday, October 22, 2014
Last Updated: Tuesday, November 8, 2016