News
Students create apps at MADHack
---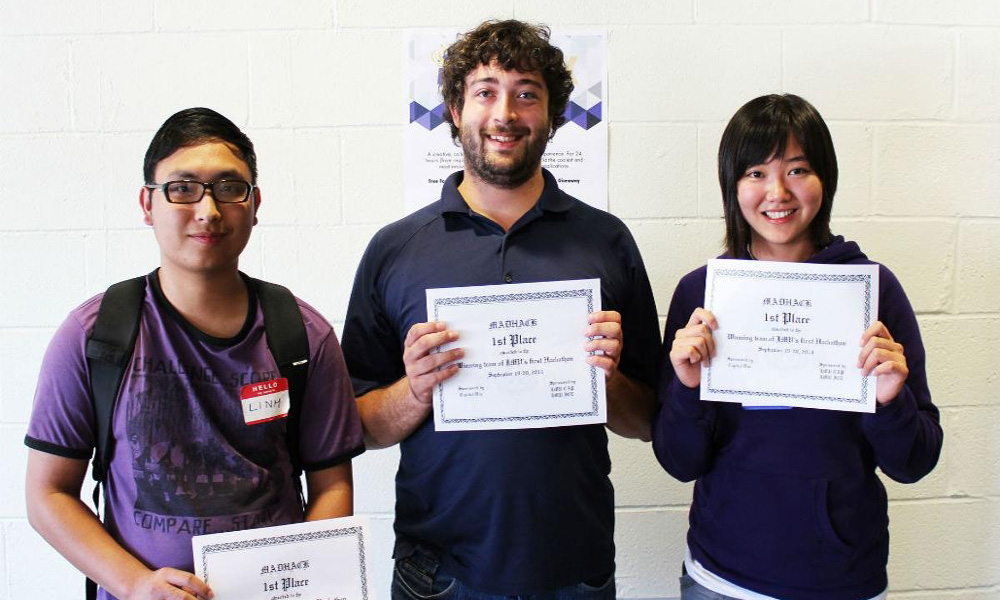 Students relished the opportunity of a lifetime at the first MADHack competition on Sept. 19 and 20 at the ICE House in downtown Harrisonburg, Va. The 24-hour competition was sponsored by JMU's Career Academic & Planning and Center for Entrepreneurship, Capital One and Tech Innovation. A total of 45 students participated, making up 15 teams. The competition's objective was to create an application, or better known as app, in 24 hours that could serve the JMU community.  A panel of judges evaluated the submitted apps on creativity, usefulness, completeness and implementation.
MADHack pushed the students' limits. Senior Linh Nguyen called the event "rough," and his teammate, junior Brendan Mitri said, "I called it a 24/7 event, 24 hours of work, seven minutes of sleep."
But at the end of MADHACK, Nguyen, Mitri and their third teammate, Fay Yang's hard work paid off when they were named the winners and were awarded $1,000 to continue working on their application.
"It was definitely worth it. It was the most exciting thing that's happened to me in a long time," said Mitri. "This was my first time building something from the ground up that really had any sort of use."
Their application is called Avoid the Ticket at JMU and is for Android phones; the application allows students to navigate their way through campus with ease. The user would first add their current location and their desired location. The application will then show the user the quickest route to get to their desired destination and where they could park. With a little bit more work, the students hope to add the technology that would tell users if a parking garage or lot was full.
"I think the main advantage of the event was exposure and the opportunity for students to work in teams under a significant time pressure," said Sharon Simmons, the Department Head of Computer Science.
MADHack is likely to become an annual event at JMU, giving students the chance to get hands-on experience and win some money at the same time.
Published: Thursday, October 2, 2014
Last Updated: Wednesday, August 10, 2016