College of Business
CIS Class Welcomes Back Engaged Alumni
---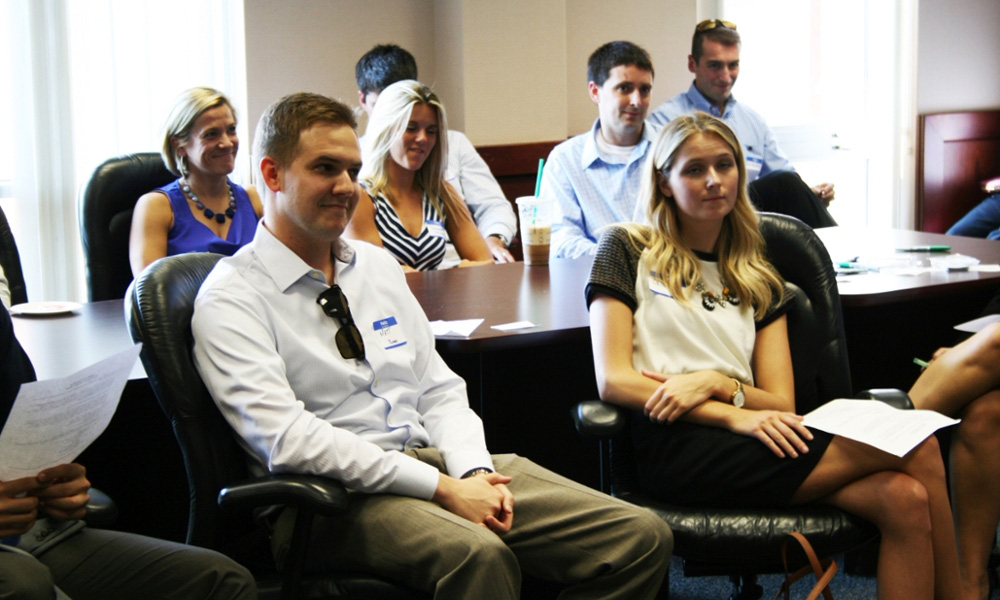 Matching students with professional mentors is a hallmark of the College of Business. An excellent example is the CIS 434 – IT Consulting Class, which is taught by Dr. Tom Dillon. This class gives students an opportunity to be mentored by a successful team of mentors, gain hands-on experience working on a real-world  assignment and prepare for a consulting career.
At the beginning of the semester, a team of students is paired with a mentor firm that will guide them as they respond to a Request for Proposal (RFP). This semester's RFP is a call to provide web development staff for the U.S. House of Representatives. In the first half of the semester, the students write a proposal in the attempt to "capture" work. Then, on Oct. 23, they submit their proposal to a   panel of judges that will choose a winner. This semester the panel of judges includes two JMU alumni with years of senior leadership experience in both the federal sector and information technology consulting. Senior judge Tom Leach, serving as a judge for the last five years, is a chief technology officer with a government agency. He will provide leadership to Susie Bonvouloir, a recently retired Vice President of Acquisitions and Project Transition at CGI Federal.  After careful review of the student prepared proposals, the judges   will return to the class with a winner in mid-November.
Following the selection of the winning proposal, the student teams will each complete an implementation plan over the last six weeks of the semester. They will conclude with competing group presentations during finals week.
Representatives from each of the mentor firms will also be team teaching the class during the semester. Each mentor firm gives at least one classroom presentation during the semester that allows them to share their expertise.
This semester there are 12 mentor firms providing guidance to student teams of three or four students.  Many of the top IT consulting firms in the nation are participating in this semester's class, including Accenture, Acuity, BAE, BluePrint IT Solutions, CapTech Consulting, Claraview, Deloitte Consulting, EY, KPMG, Protiviti, PwC and Smart Resources.  The students meet and correspond with their mentors throughout the semester and both the students and the mentors take the competition very seriously.
BAE's Jody Ganzermiller, a JMU alumna and member of a mentor firm said, "We [The mentor firms] compete in the real world and here."
An aggressive competition is expected, since past students have been offered great full-time jobs after taking this course.  In each of the last two years, 30 of the 36 students enrolled joined a consulting firm after graduating.  
"I would estimate that 60-70% of CIS majors have job offers by Thanksgiving of their senior years," Dillon reports, "and that is easily attributed to the success to the College of Business and its comprehensive CIS program."
Such great classes, where students are offered valuable hands-on experience, are setting the students from the JMU College of Business up for success upon graduation.    
"I have worked at three or four different universities that were AACSB (Association to Advance Collegiate Schools of Business) accredited and each one of them had some little pocket in their CIS program where they did some really good things. But, JMU does it best," said Dillon. 
Published: Tuesday, September 9, 2014
Last Updated: Tuesday, November 8, 2016