News
Society of Entrepreneurs Preps for Inaugural ICCE Event
---
Innovation. Creativity. Collaboration. Entrepreneurship.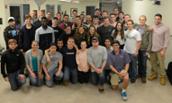 "We are excited about ICCE because this is what we love, collaborating with each other on all kinds of ideas," says Laura Dobbs, Vice President of the student Society of Entrepreneurs (SOE). The group include students from all majors and years.
What started out as a small networking group has grown to 55+ members with high energy, enthusiasm, and ambition. The group's talent will be showcased next Friday, Sept. 12, at the inaugural ICCE event, as they organize and implement the student shark tank pitch competition.
What is an entrepreneur? Dobbs explains it this way, "An entrepreneur is a visionary who wants to change something in the world or community; they need to be able to implement their idea and make it come to life." They understand the lifecycle of entrepreneurship: innovation, execution, and venture capital.
Dobbs notes, "Entrepreneurship isn't limited to business students, but knowing some aspects of business is helpful. An artist is an entrepreneur with enough business sense to sell their creations."
The SOE team is focused now on coaching and mentoring the student teams working up their pitches, which must be both visionary and viable.  The final three teams of two to five people will be selected on Wednesday, Sept. 10, by the SOE executive committee and mentors. The chosen teams will then practice, revise, and refine their pitches, which will be judged by the audience at the ICCE event.
In addition to the pitch competition, the event will feature networking, ICCE talks from successful alumni Don Rainey, John Rothenberger, and Virginia Coles.
Today is the official close of registration: register now at http://jmu-cob-icce-event.weebly.com/. Plan to attend and support your fellow Dukes as they present their innovative, creative, collaborative, and entrepreneurial ideas!  (Some registrations will be accepted at the door.)
Published: Friday, September 5, 2014
Last Updated: Wednesday, June 8, 2016