College of Business
Kathy Warden Keynotes InfoSec Opening Session
---
Corporate Vice P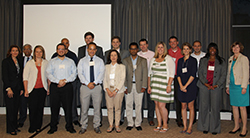 resident and President Northrop Grumman Information Systems Kathy Warden welcomed the InfoSec MBA students to a new year of challenges and opportunities. The opening meeting, held in Reston, Va., on Friday, Aug. 22, gave students an excellent opportunity to network with each other and with MBA faculty.
Warden shared some of her life stories with the students. She spoke with the group about the importance of the information security field, and the importance of introducing the field to more women. The information security industry offers unlimited career opportunities. The field becomes more and more important as companies realize the critical nature of protecting digital assets.
In her current role, Warden oversees large-scale, mission-critical systems and complex hardware and software products within the U.S. and internationally in areas such as command, control and communications; cybersecurity and identity management; homeland security; health, public safety and enterprise infrastructure; and intelligence, surveillance and reconnaissance (ISR) and ground systems.
Previously, Ms. Warden was sector vice president and general manager, Cyber Intelligence division Northrop Grumman Information Systems sector.
Warden earned her B.B.A. in Computer Information Systems from JMU, and her MBA from George Washington University.
MBA Director Dr. Mike Busing says, "We were honored to have Kathy Warden as our special guest and keynote speaker during our opening session. She shared helpful insights and tips into the field of information security in today's world. We appreciate her input and ideas."
Published: Friday, August 29, 2014
Last Updated: Thursday, August 11, 2016