News
CoB Study Abroad Program Expands to Include CIS trip to Sweden
---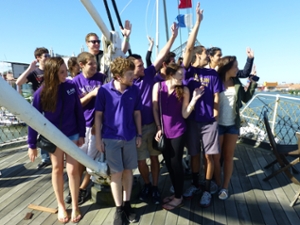 The College of Business has recently expanded its study abroad program to include a one-month, 6-credit Computer Information Systems study abroad program at Malmö University in Sweden. From May 15 through June 14, 16 CIS students traveled to Malmö University to study Computer Information Systems, experience Swedish culture, and tour various European cities and businesses. 
In addition to being the first JMU study abroad program to be offered at Malmö University, this is also the first time Malmö University has ever introduced a study abroad program with the United States.   
For the program's faculty advisor and CIS instructor Carey Cole, this newness was appealing. He said, "I liked the idea that it was a first-time experience for both JMU and Malmö. We both came into this program open-minded and excited, and we were able to work through some of the growing pains together."
This year's trip to Sweden offered students a variety of activities and experiences that allowed the students to immerse themselves in Swedish culture. In addition to studying and living at the Swedish university in Malmö, students also toured the Tivoli gardens, attended a European soccer game, and traveled to Stockholm, Gothenburg, and Copenhagen.
Josh Mize, a senior CIS major and student assistant for the Malmö trip, said, "My time in Sweden was a very rewarding experience. It challenged me to try new things and adapt to different lifestyles as I lived in Malmö and visited new countries on the weekends. It gave me the opportunity to develop new friendships with students from all over the world." 
While studying at Malmö, students receive credit for Database Design and Application (CIS 330), a required course, and Web Development (CIS 366), an elective course. In addition to education in the classroom, students have the opportunity to learn outside of the classroom through class trips and tours throughout Europe. 
Looking forward, Cole has great expectations for the future of the program; in particular, he hopes to add a few more tours of Swedish technical businesses to the travel itinerary. He explained, "If I can locate some businesses that are open to these types of tours, then our students will receive a better glimpse of the technology industry in Sweden--an opportunity that was largely unavailable for CIS students prior to the Malmö study abroad program. Adding more Swedish businesses from within the IT industry would greatly enhance the program."  
To apply for this program, applicants must be either majoring or minoring in CIS and must have completed the Principles of Programming course (CIS 221) by the end of the previous fall semester. CIS majors must have been accepted into COB 300 prior to departing for Sweden.  If applicants have met the course requirements, they must submit a letter of recommendation and agree to an interview with program director Carey Cole.
For more information on the application process, please click here.  
To view pictures from Computer Information Systems (CIS) in Sweden: Magical Moments in Malmö, please click here. 
Published: Tuesday, August 19, 2014
Last Updated: Wednesday, June 8, 2016