News
Wood and Stover Support Local Teachers through CEE Training Institutes
---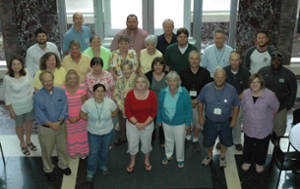 Thanks to the efforts of Center for Economic Education (CEE) Director William Wood and CEE Associate Director Lynne Stover, high school teachers in the Shenandoah Valley are better equipped to tackle the upcoming school year. 
Recent Virginia legislation mandated that every high school student in Virginia must pass a course in economics and financial literacy in order to graduate. In response to this mandate, JMU's Center for Economic Education decided to offer an Economics Institute and a Personal Finance Institute to help better prepare high school instructors to teach these new courses. 
Stover explains, "We really want to help teachers impact their students in a positive way and from an informed standpoint. By sharing our resources and materials, we are not only supporting the teachers but also supporting the students. We hope that, through our training sessions, students—and teachers—will be more knowledgeable about their options and make better financial decisions."
Each of the institutes itemized areas of study based on the Virginia standards of learning (SOLs) and provided a number of resources to teachers to help support proper instruction. Both the Economics Institute and the Personal Finance Institute were designed to provide high school teachers with the opportunity to engage with the course material in a meaningful and exciting way.
"Through these institutes, not only are teachers able to gain a better understanding of course material, but they are also building a stronger network of fellow teachers," says Stover. "Connections are established, friends are made, and colleagues are reacquainted. They have a space to share ideas, resources, and lessons. It really is a wonderful outcome that makes the training sessions more lively and engaging."
Thanks to the outstanding contributions from the CEE's generous funders and the Virginia Council for Economic Education, the Economics Institute and the Personal Finance Institute, including all of the teaching resources and classroom materials, were free for participants.
During the regular school year, outreach to teachers from the JMU Center for Economic Education is a sponsored program of Shenandoah Valley Economic Education, Inc., a nonprofit organization dedicated to helping area students understand economics and the free enterprise system. 
The College of Business is dedicated to education both at JMU and in our local community. Through these outreach efforts, the CEE aims to promote economic literacy in the Shenandoah Valley and its schools.
A special thanks to the following funders:
Allianz Foundation for North America
BB&T Scott and Stringfellow
Capital One
Genworth Foundation
SunTrust Foundation
Virginia Bankers Association Education Foundation
Wells Fargo
Bank of America Charitable Foundation
State Farm
Virginia Credit Union
Virginia Lottery
Published: Tuesday, August 5, 2014
Last Updated: Wednesday, June 8, 2016