News
Bazzle's Bakery Wins Spring 2014 Venture Creation Business Plan Competition
---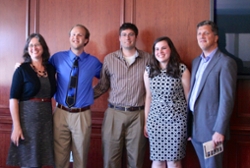 Congratulations to this year's winner of the Spring 2014 Venture Creation Business Plan Competition--Bazzle's Bakery. This team, consisting of Megan Bazzle (Hospitality Management), Zachary Ochoa (International Affairs), and Alec Moser (Music), pitched a business plan for enhancing and expanding the already existing Bazzle's Bakery, a business developed by team leader Megan Bazzle.
Bazzle's Bakery features made-from-scratch cakes and cupcakes that are both affordable and delicious. Bazzle owns and operates the business, preparing all of the desserts herself. By winning the Venture Creation Business Plan Competition, Bazzle's Bakery received $800 to put towards the company.
In second place was Peddler's Produce, with team members Kevin Decker (Kinesiology), Megan Laskey (Geographic Studies), Kelly Hartnett (Management), and Al van Natta (Geographic Studies) winning a total of $400. Peddler's Produce plans to initiate a mobile farmer's market for local food deserts—areas that do not have ready access to fresh food—by delivering locally grown produce via bicycle. 
Third place was awarded to Home Experts, with team members Carolyn Panza (Management), Chris Deitrick (Psychology and Economics), Adam Sitts (Accounting), and Jason Welsford (Management) winning $300. Home Experts plans to develop an application that will help connect home owners with certified service providers.
Francis Wilson (Finance and Justice Studies), from team Ark Construction, was named Most Valuable Player, winning $250. Wilson was cited as being an active participant in the class, offering feedback and support to his own team as well as the other student teams throughout the semester.
The other Venture Creation teams included:
Luminary Hotel, a boutique hotel in Charleston, SC, consisting of team members Scott Beatty (Economics), Danielle Cursi (Hospitality Management), Zach Mortensen (Management), and Pratt Templeton (Management).
Ark Construction, a residential home renovation company, consisting of team members Francis Wilson (Finance and Justice Studies), Noah Daves (Management), Adam Russell (Management), and Thomas Barringer (Management). 
Landwirt Bottling, a mobile bottling company, consisting of team members John Powers (Management) and David Bernhardt (Management).
VIN Wine Bar & Lounge, an affordable DC wine bar targeted at the millennial population, consisting of team members Kevin Shea (Hospitality Management), Mike Gaetano (Health Services Administration), Dru Henderson (Sport and Recreation Management), and Justin Gannon (Kinesiology). 
Not present at the competition was Solid Grounds—a team consisting of Cassandra Le (Hospitality Management) Trevonté Grant (Management), Kaitlyn Connor (Hospitality Management).
In addition to the business plan pitches, a number of JMU faculty and students shared their entrepreneurial experiences with the audience. As part of the celebration of entrepreneurship, Management Professor Dr. Bill Wales shared a video of the successful product launch for Custom Coasters by two students. Click here to view.
What is Venture Creation?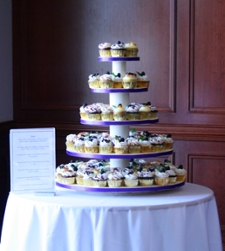 Venture Creation is an interdisciplinary entrepreneurship course created by CFE Director Carol Hamilton and Serial Entrepreneur John Rothenberger. This course provides a unique experience for JMU undergraduates who have an entrepreneurial interest and want to learn how to transform a market opportunity into a viable business from launch to harvest.
The class divides into student venture teams—each team is given a seasoned entrepreneur to act as their mentor.  Throughout the semester, student teams analyze the market and develop a viable business plan to present to potential investors at the Venture Creation Business Plan Competition.
Who were the judges?
This semester, the judges were former venture capitalist investor and JMU First Lady Mary Ann Alger in addition to Aaron Ludwig, owner of Jack Brown's Beer and Burger Joint and Billy Jack's Wing and Draft Shack.
The College of Business thanks the judges for attending and offering their guidance to student teams, and we also thank the entrepreneurs who served as mentors to the students for the entire semester. Your contributions help to make Venture Creation a valuable learning opportunity for students.  
To view pictures from this event, please click here. 
Published: Thursday, May 8, 2014
Last Updated: Friday, August 5, 2016