News
ISAT Professor Receives University-wide Ford Faculty Endowment Award
---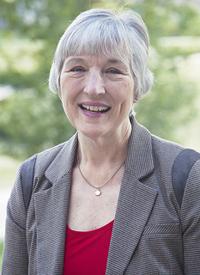 The College of Integrated Science and Engineering congratulates Dr. Louise Temple, Integrated Science and Technology (ISAT) professor and accomplished virologist, for being named 2015 recipient of the James Madison University Ford Faculty Endowment Award.
"In considering the reasons that Dr. Temple should be considered for this honor," wrote ISAT department head Dr. Eric Maslen, "what stands out is the inextricable fusion she has accomplished between her teaching and her scholarship: the two don't merely complement one another, they really cannot be separated."
Dr. Temple received her Ph.D in microbiology and Immunology from the Medical College of Virginia, in Richmond. One of her accomplishments includes developing a viral discovery course at JMU with the support of the Howard Hughes Medical Institute. In the course, freshmen isolate and characterize viruses they discover in a handful of dirt.
Dr. Temple guides the students through the viral discovery process "because she wants brand new students to experience the thrill of discovery that motivates any successful scientist at a point when their imaginations are ripe for the experience and they have not yet been submersed in the inevitable tool-building that enables students to emerge as self-sufficient laboratory analysts," Dr. Maslen wrote.
The Ford Faculty Endowment Award is only given to one professor within JMU each year. The recipient must be a full-time instructional faculty member who has 10 to 20 years of service at JMU and possesses a record of excellence in teaching, curriculum development, technology enhancements, professional development, or integration of teaching and scholarship to benefit the student learning process.
"It has been incredibly rewarding to work with undergraduates for over 21 years of university teaching," said Dr. Temple. "I'm pleased and impressed that the Fords are recognizing integration of the student-focused work over all the areas of teaching, service and scholarship. This is exactly what I and many other faculty do, more or less by instinct."
Dr. Temple embodies student-focused work; the viral discovery class, in addition to her research on a bacterial pathogen of poultry, allows students to become self-reliant research analysts; moreover, Dr. Temple always publishes her research with student co-authors.
"Her students feel valued and empowered," wrote Dr. Maslen, "and leave JMU with the confidence and with the skills to lead the next generation of scientists and scholars."
Published: Wednesday, May 20, 2015
Last Updated: Thursday, January 4, 2018