College of Integrated Science and Engineering
Construction Apprenticeship Class Helps Students Build Professional Experience
---
By: Julie Stern
In an effort to bridge the gap between classroom experience and the real world industry, two senior engineering students, Brandon Gulledge and Will Hays, started their own class at James Madison University (JMU) this semester,Classroom Apprenticeship: Understanding the Construction Industry, to better prepare students as they take their first step into the professional industry.
"The focus [of the class] is in understanding the construction industry by going to the real world," said faculty adviser Dr. Olga Pierrakos. "We have a few industrial partners who have allowed us to tour construction sites, meet with them, join meetings, and understand how decisions are made in the real world."
Gulledge and Hays instruct six students; the small class size allows for more personal, interactive learning—an approach that makes JMU's engineering program different from most.
"We knew that faculty can only teach one elective every year or two, so they are limited," Hays said. "There are no limits for what students teach."
The pair came up with the idea for the class after a previous project they worked on together. Their assignment was to come up with an engineering system that could be improved, and they selected on-campus construction. At the end of the project they wrote a proposal for a class, and decided to implement the idea.
"Professionals talk about a gap in academia and industry in terms of experience and understanding how things are done," Gulledge explained. "We're trying to provide students with similar experience that they'd get with an internship, without having to leave campus."
During class, the students visit on-campus construction sites and facilities to learn from professionals. Prior to visits, they research the company and prepare questions to ask. According to Gulledge and Hays, the class will only be successful with participation and professionalism from the students.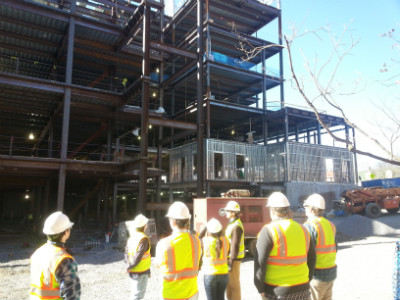 Construction company Skanska has allowed the class to visit its on-campus sites. Jon Mannix, Project Manager, and JMU alumnus Tim Brooks, Senior Project Engineer, have been instrumental in helping the students understand the construction industry. 
The students have also connected with architect Charles Hendricks of The Gaines Group; civil engineer and JMU assistant engineering professor Dr. Heather McLeod, who is a concrete expert; Steve Jones, a structural engineer at Moseley Architects; and other local professionals. 
"These professionals enjoy the opportunity to interact with the students," Dr. Pierrakos said. "This program enables them to professionally enrich their skillset."
Gulledge and Hays designed the course as a sustainable model for student involvement and innovation. Their class model demonstrates the interactive learning aspect of the engineering department, as well as the available opportunities at JMU.
"It was hard, since we're the first to do this," Hays said. He and Gulledge met with JMU facilities management and risk management to address the safety risk associated with visiting construction sites. Their work will serve as an example for individuals in the future who pursue a similar project or class.
"Now people in the future won't have to go through such a process," Hays added. "We were part of the facilities management pilot program of site tours."
Touring sites allows students to understand the various facets of engineering, such as management, mechanical components, systems, and structure, and get involved in the construction process.
"This allows some students to realize that there is more to engineering than just understanding theory," Gulledge said. "Our students are more versatile. They understand the importance of holistic thinking and making practical considerations."
Understanding the various parts of the construction process helps students develop a multifaceted skillset, so that they may approach a problem from various aspects. The class transforms students' learning process, by taking concepts and implementing them.
"This is much more complex than we can ever explain in a traditional classroom," Gulledge said.
Gulledge and Hays hope their course will shed light on the engineering students' interest in more specialized, career-oriented coursework, as well as serve as a model for student involvement and future project-oriented classes.
"It is a win-win in many ways; for students, the JMU program, and professionals," Dr. Pierrakos said. "That's a sustainable model."
Published: Wednesday, April 22, 2015
Last Updated: Thursday, January 4, 2018