News
Interactive Learning Inspires Elementary School Students
---
By: Julie Stern
Posted: March 16, 2015
Woodland Montessori School has at least one thing in common with James Madison University's Department of Engineering: both value a hands-on learning environment. On March 2, first, second, and third-graders from the elementary school took a tour of the engineering facilities in order to learn more about simple machines and how they function.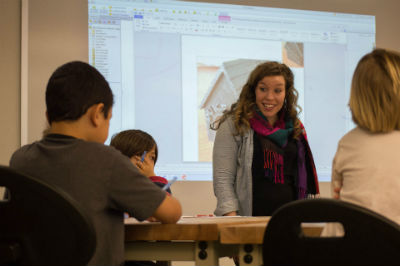 Senior engineering major Meghan Daly led the children through the department and explained the purpose of the rooms and equipment.
The children were inquisitive, often raising their hands to learn more. "They are full of questions," said Woodland Montessori director Jackie Morales-Shifflett. "They like to know how things work."
Daly showed the children prototypes of human-powered vehicles that engineering students built for past projects. She explained how each part of the vehicles functions and why engineers build prototypes. The children visited the machine shop, 3D printing laboratory, and robotics laboratory.
The tour gave the children an interactive lesson about simple machines. Morales-Shifflett explained that including the children in the process is more valuable than simply teaching it to them. "The whole Montessori philosophy is hands-on learning," she said.
Montessori schools follow an educational method that emphasizes developing an individualized learning environment.
"Non-competitive design helps build a strong sense of personal value as well as respect for others," explains the school's website. "Each child feels the joy that comes naturally from mastering a skill, and learns not for the sake of approval by teachers or peers or domination over others, but for the love of learning itself."
During an activity in the 3D printing laboratory, the children drew houses for the university's duke dog mascot. An engineering student also drew a house but, instead, used a design program to make it 3D. The children stared intently as he drew. At the end of the tour they each received a small, 3D-printed house to take home.
"The children have been involved in everything," said Morales-Shifflett of the tour. "They just enjoy learning." 
Published: Monday, March 16, 2015
Last Updated: Thursday, January 4, 2018