News
Social work students attend Latinx Conference in Chicago
---
By: Brittany Bell
Creative Services Student Writer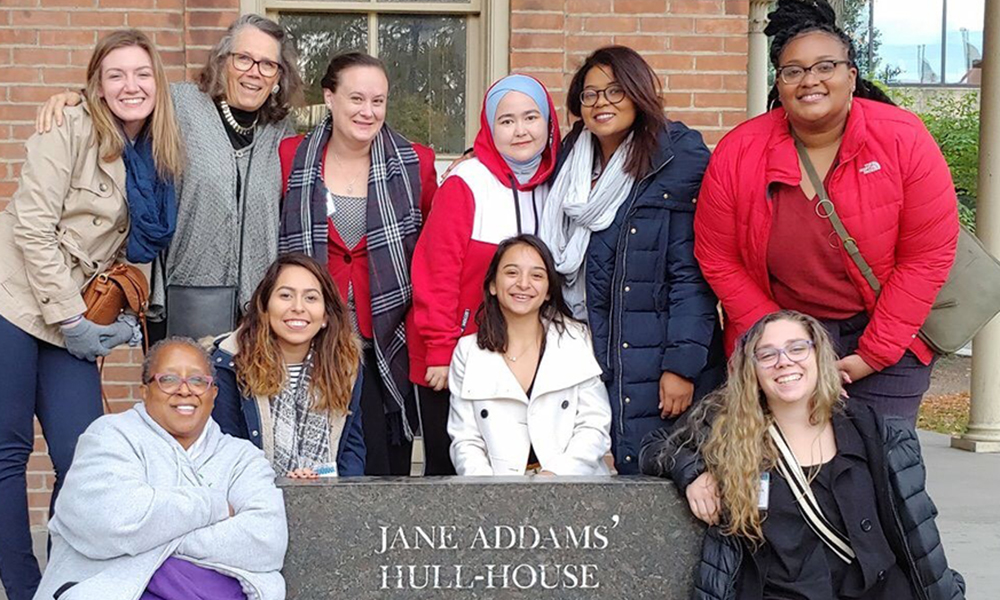 With an abundance of cultures in our country, it is more important than ever for social workers to understand diversity. This past October, James Madison University social work students had the opportunity to attend the Latino Social Workers Organization (LSWO) 2018 Conference in Chicago. They expanded their cultural knowledge of the Latinx population while also learning about the challenges of their chosen profession.
The conference was a three-day event that included workshops for professional social workers and students.  They learned about common issues faced in the field and how other practitioners handled them. There were opportunities for groups from all over the country to share experiences to help others in the profession.
"I loved seeing the camaraderie and how everyone interacted with each other," said Jordan Carey. "Being a minority myself, I was appreciative of the experience to learn from another minority culture and the experiences they have."
"I learned a great deal from the workshops I attended because a passion of mine has always been children and immigrant families," continued Cynthia Amaya. "The most important thing that I learned was to always listen, because we're not here to give anybody advice or tell them what to do. We're here to help them realize their power and voice, while advocating for rights that are deserved by every human."
Beyond discussing the challenges faced by social workers working with the Latinx community, the conference also explored the general struggles of social workers within the profession. For example, one of the problems faced by bilingual social workers is a higher caseload.
Some of the workshops encouraged professional social workers to continue their education. "Expanding your knowledge in social work is empowering all on its own because it's one of those things that's always growing and changing," said Hayley Jenkins. "There are always going to be different problems, different issues and different things to overcome. We call ourselves life-long learners."
In addition to attending the conference, the students also visited the Jane Addams Hull House Museum located in Chicago. As the original building of the Hull House association, the Hull House museum memorializes all the houses that provided shelter for immigrants and others in need throughout history.
While exploring the museum, students learned about the history of the Hull House Association, Jane Addams herself and how she started the Hull house and kept it going. Even though the Hull House association closed in 2012 after 122 years of service, the museum still stands to commemorate what was provided for struggling families. "This was an institution that helped families stay on their feet, provide daycare for working mothers and so much more," said Amaya.
Both the conference and the trip to the Hull House gave the social work students the opportunity to witness the profession in action and learn about the history, triumphs and challenges of social work. They also expanded their knowledge of the Latinx community and became more aware of their trials and tribulations.
"Chicago was the second conference I have attended, and I always leave them feeling so empowered," said Jenkins. "Even though I am overwhelmed because you learn so much, the experience is so unbelievably worth it."
Published: Friday, February 1, 2019
Last Updated: Tuesday, February 5, 2019