College of Health and Behavioral Studies
HSA program hosts inaugural speaker series
---
By: Sara Banton
Creative Services Student Writer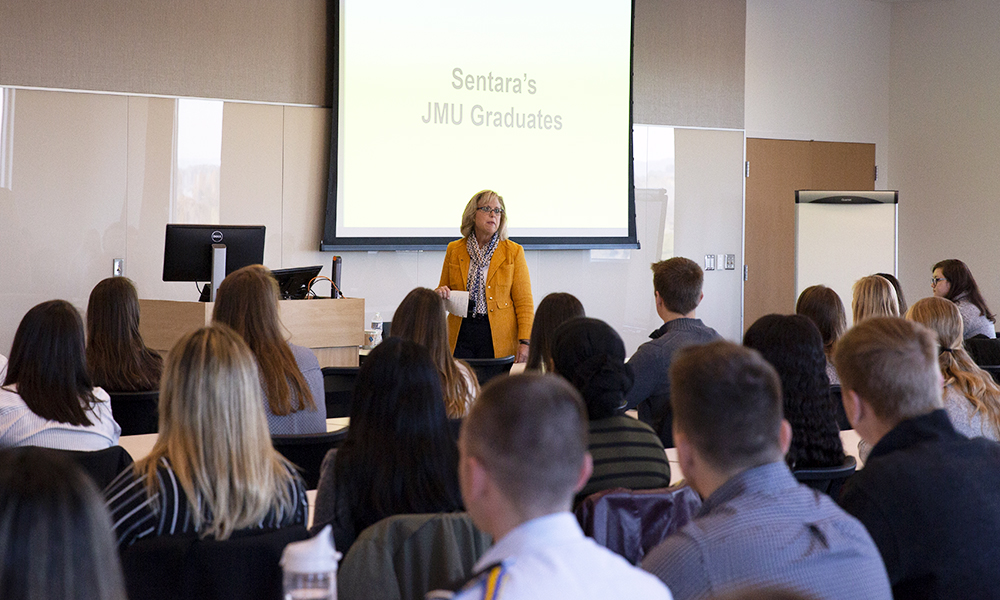 The Health Services Administration (HSA) program hosted its first speaker presentation on October 30, 2018. This event featured Terrie Edwards, Corporate Vice President of Sentara Healthcare, and Doug Moyer, President of Sentara RMH. The executives shared their respective career paths, advice on belonging to professional associations and ways to attain a desired career. Students interacted with the executives during a coffee reception prior to the presentations and at a luncheon afterwards as well.
As a JMU alumna, Edwards exemplifies what HSA students are capable of and knows first-hand the many paths and careers they can attain after graduation. "They made the right choice, as JMU is a well-respected educational institution," Edwards said. "There are many paths in healthcare and it is a great profession. It's an opportunity to make a difference in the lives of others."
Christian Farris, president of the Health Administration Student Association (HASA), thoroughly enjoyed the presentations and getting to meet Edwards and Moyer. He gained a new perspective from two executives in high leadership positions in a hospital setting, something he is interested in as a career path.
"I learned a significant amount by hearing their perspectives on the proper steps to take, advice and experiences with their careers," he said. "I was able to take their experiences and apply them to things I am currently experiencing in school."
To Farris, the most memorable point the speakers made was that they were competitors at one point but now work directly with each other. "That showed me that in the career field, you can end up practically anywhere, but it really showed me how important communication and relationship building is," he said. "It's very important to be professional and I learned that the skills we learn here in school, like working as a team and being responsible, can translate extremely well into the future."
Prior to the event, senior Katia Zillic had been thinking about her future career path and this event with Edwards and Moyer allowed her to gain more insight about her future.
"I came into the space ready to be engaged and I thought that they were very helpful because they were providing career experience and it wasn't from someone who just graduated, but from someone who's been doing this for twenty or more years," she said.
Zillic believed that the amount of experience Edwards and Moyer brought to the event spoke to every student that attended. "It is sometimes hard to find something that will speak to every level of attendee, but they did a great job of that."
She felt very energized and enthusiastic about achieving her future career goals after listening to Edwards and Moyer speak. As vice president of HASA, she plans to incorporate that inspiration into future meetings.
Laura Dutzman was recognized at the event for having the highest academic performance in the HSA program and for her membership in the American College of Healthcare Executives (ACHE). She received a scholarship from Edwards for her achievements. "I was very honored," Dutzman said. "As a senior, I'm glad that my hard work throughout my college career has been recognized."
During Edwards' presentation, she explained that she was a JMU alumna, but that she was also the first woman in her family to attend college and earn a Master's Degree. Dutzman notes this part of Edwards' presentation as the most memorable. "She really worked hard and understood the importance of education and relationships she made throughout her career and that's what she emphasized throughout her presentation: it's not where you come from or what you have, but what you put into it and the effort and go from there," Dutzman said.
"It was a really good experience to have Terrie Edwards and Doug Moyer come and I hope it continues," Farris said. "It's a great speaker series and I think it offers students something that hasn't been here before."
Published: Monday, January 7, 2019
Last Updated: Monday, January 7, 2019