News
Occupational Therapy students advocate in DC
---
By: Brittany Bell
Creative Services Student Writer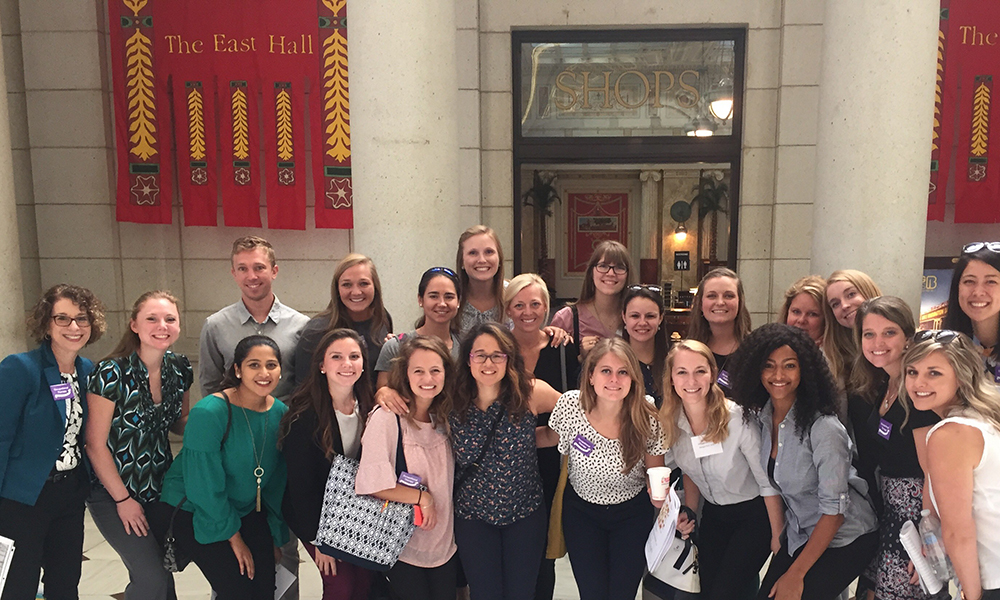 Prior to the recent midterm elections, students were strongly encouraged to participate in civic engagement and use their voices to contribute to government affairs. Over 20 graduate students from JMU's occupational therapy (OT) program advocated for their profession at an event called AOTA's 2018 Capitol Hill Day. On October 1, students, faculty and practicing occupational therapy practitioners from all over the country came together to speak to their representatives and legislators.
The American Occupational Therapy Association (AOTA) organizes the annual Capitol Hill Day for occupational therapy students and practitioners to speak to congressional staffers about the profession. It is important that legislators become more aware of the OT profession and learn how particular bills can help improve health care for their constituents.
Rachelle Dorne, the new program director for occupational therapy, organized the trip because of her previous experience attending as program director for Nova Southeastern University and because of her roles as an active member of AOTA and in the Circle of Advisors for the American Occupational Therapy Political Action Committee. She wanted JMU students to have the opportunity to interact with congressional staffers and learn how to advocate for the profession and their future clients.
"My main reason for doing this is because it ties into civic engagement and engaged learning, which are JMU core values," said Dorne. "Part of my mission is to really get students engaged so that they know they have a voice. The best way to see you have a voice is to talk to someone in government and explain who you are, what you want and develop an 'ask'."
For the event, Dorne led two training events for students of the occupational therapy program at the Murphy Deming College of Health Sciences at Mary Baldwin University, with assistance of their program director. During the training, JMU students met with MBU students to practice and prepare for the event.
"The American Occupational Therapy Association (AOTA) gave us all of the information we needed, and really pushed for us to know each little detail," participant Stuart Landis, said. "Every detail helped because if you know everything as a whole, then you can speak more person-to-person with congressional staffers."
When the students arrived at Capitol Hill, they split into groups and had the opportunity to introduce themselves to their own representatives' offices. Not only were they explaining what occupational therapy was, but they were presenting issues that the professional association wanted to discuss in order to advocate for certain bills.
"I had never before seen what the legislative process for advocating for occupational therapy looked like," Landis said. "When you go in there you feel so small, because you're just one person in this huge marble building where so many big laws are getting passed and discussed, but to see that they did listen to what we said made a difference."
JMU OT student Deanna Moser had the opportunity to meet with Eric Bagwell, an aide for Congressman Bob Goodlatte, and Nicholas Widmyer, a Legislative Correspondent for Sen. Tim Kaine. Both congressional staff members represent the Harrisonburg area in Congress. "I was surprised by how receptive they were and felt that they truly listened to us and passed on what we had to say," Moser said. "We were advocating for occupational therapists to be able to conduct the initial assessment in home health cases, for occupational therapy services to be considered as a non-pharmacological option for pain management, and for increased funding for the Individuals with Disabilities Education Act (IDEA)," Moser said. Since Capitol Hill Day, Congress has passed the HR6 Act supporting the use of occupational therapy services for pain management in substance use-disorder prevention.
"People don't necessarily come into occupational therapy programs to be the change agent for populations.  They're often wanting one-on-one with patients, but from my perspective you can be the change agent on bigger levels," said Dorne. "With all the opportunities our students have in the program to be engaged with the community and its population, they can represent the community, establish programs and work where there aren't occupational therapists."
"I would highly encourage other students to participate in future OT Hill Day events," Moser adds. "Even if they do not currently plan to be involved in the advocating process as practitioners, understanding the legislative process and how it effects our profession and clients is important."
Published: Thursday, January 3, 2019
Last Updated: Thursday, January 3, 2019