College of Health and Behavioral Studies
Department of Health Professions welcomes new academic unit head
---
By: Brittany Bell
Creative Services Student Writer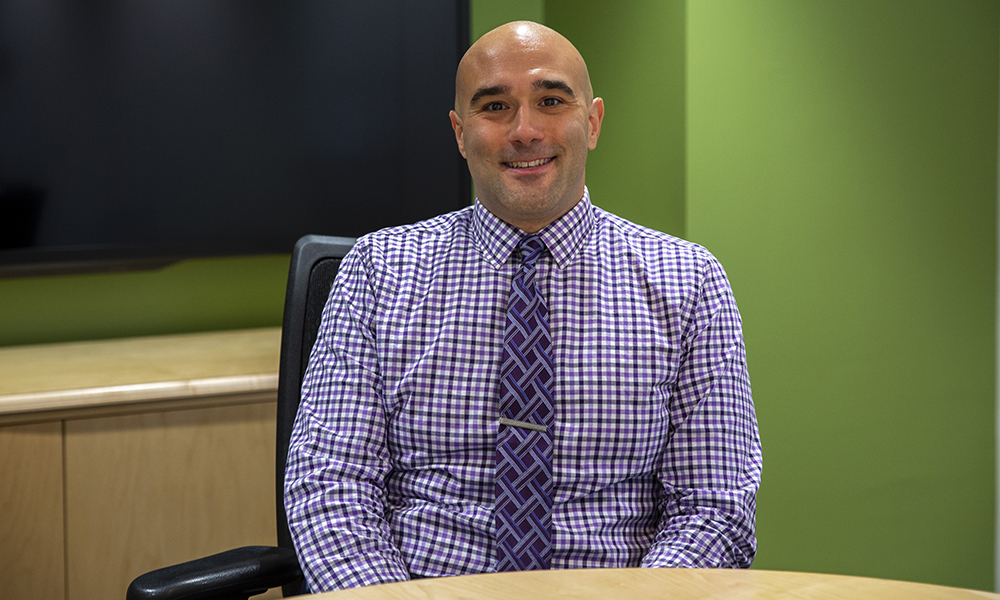 At the beginning of the 2017-18 school year, rapid growth in CHBS's health programs necessitated the creation of a new academic unit. With a number of existing programs from the Department of Health Sciences, the new Department of Health Professions was created. One priority for the new academic unit was finding a leader with an understanding of the values of the department for community engagement and interprofessional education. A search successfully identified associate professor Kirk Armstrong as the new academic unit head.
Having spent most of his life in Indiana, Armstrong will be adjusting to Virginia life as he pursues his passion of teaching and interacting with students in order to make an impact on the medical world.
Armstrong's education began at University of Indianapolis where he received a Bachelor of Science degree in athletic training. From there, he traveled to Middle Tennessee State University and obtained a Master of Science degree in exercise and health promotion. Returning to Indiana he earned an Ed.D. in adult, higher, and community education from Ball State University.
After receiving his doctorate degree, Armstrong became the athletic training program director at Indiana State where there was a strong emphasis on community and civic engagement. As a program director, he had more administrative and teaching duties than clinical responsibilities, though he did participate in patient care whenever he had the opportunity. "It was a great way to stay connected to the profession and to get to work with students by teaching them in the classroom and taking them to work in clinics with me," said Armstrong.
After a few years as program director at Indiana State, Armstrong was ready for new challenges. He interviewed and accepted his current position at JMU last summer. He was interested in JMU because of the university's emphasis on teaching, as well as the focus on student engagement in the community. He also appreciates that JMU encourages interprofessional education, so students from different disciplines within the university can collaborate on health care.
"JMU was a really good fit with what I believe is important — which is teaching  — as well as being involved in the community civically within your profession and on a national landscape," said Armstrong.
His transition to the Shenandoah Valley from Indiana has not only been a professional change, but a cultural experience as well. As an avid runner, biker and swimmer, Armstrong is enjoying the challenge of adapting from the flat plains of Indiana to the mountains and hills of Harrisonburg. "Harrisonburg and this part of Virginia are absolutely beautiful," said Armstrong. "There are lots of fun things to do in and around Harrisonburg, so it's been fun getting to explore the city and do things in the valley with art, culture, food or recreation."
Since the Department of Health Professions is a new academic unit within the College of Health Behavioral Studies, Armstrong wants to guide the development of the department's identity; how it is seen within the college, university and externally. He also personally wants to promote what the students and faculty are doing within each program.
"Our faculty, staff and students do amazing things, not only on campus and in our community but also across the country," said Armstrong. "I really want to help highlight what they're doing and make sure that people, whether internal to JMU, external or across the country, can start to see some of these great things."
 "It's an exciting time as our health professions are continuing to evolve to meet the changing needs of healthcare," Armstrong continued. "I think that all of our programs are making sure that when students graduate they are able to meet the needs of their patients today and what they're going to be in the future."
Published: Monday, November 5, 2018
Last Updated: Monday, November 5, 2018