News
Psychology Peer Advising under new leadership
---
SUMMARY: After nine years of leading the Psychology Peer Advising program, professor Kimberly DuVall is turning over the reins to co-directors Kethera Fogler and Janna Taft Young
---
By: Sara Banton
Creative Services Student Writer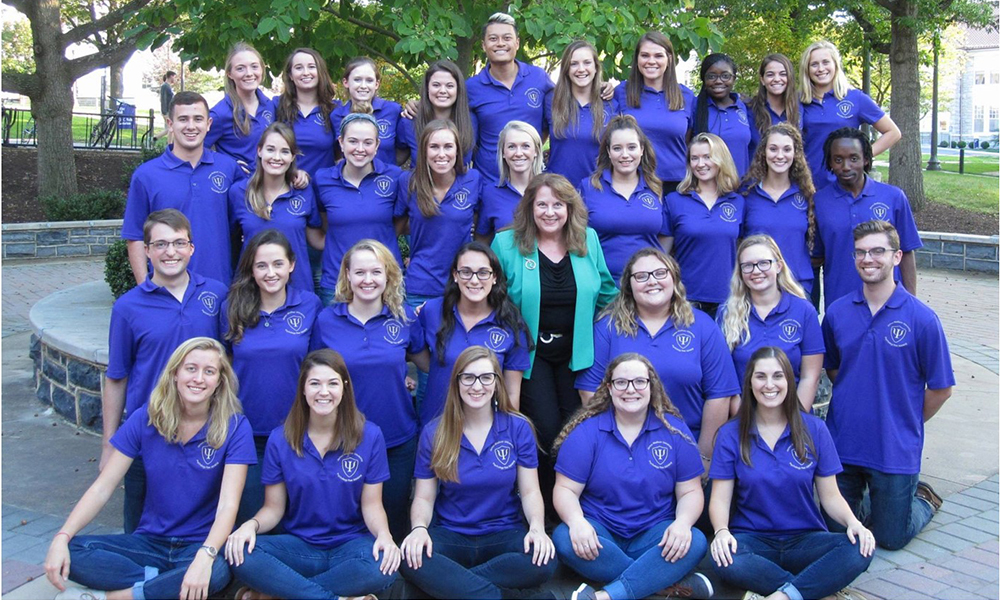 The Psychology Peer Advising (PPA) program has thrived for the past nine years under the leadership of professor Kimberly DuVall, who is handing over the reins as director of the program. Two psychology professors—Kethera Fogler and Janna Taft Young—are taking over as co-directors. This program trains students to provide academic and career information to current and prospective psychology majors.
"I will miss the relationships that I have been able to form with the students that work with me for four semesters. I will miss the strong cohort," DuVall said. "The peer advisers have been like family to me."
During her second year at JMU, DuVall accepted the position as program director when asked by the current director, Bill Evans. She viewed her new position as a great way to assist the department. Over the next nine years, she made many foundational changes. She established the program as a practicum, made it more academically rigorous and included opportunities for students to present at conferences and publish in peer-reviewed journals.
One of DuVall's goals as director was to focus on transferrable skills, like oral and written communication, leadership, interpersonal, group dynamics and active listening skills. "The feedback I have received from PPAs who have graduated and moved on to a career or graduate school is wonderful—so many tell me how working and learning within the PPA practicum gave them skills that helped them directly in their new adventures," DuVall said.
Taft Young and Fogler, look forward to the opportunities that come with leading the practicum. For the first time, there are two directors leading this program. Neither professor has co-taught before, but both view this as a unique teaching experience for themselves, learning to work with another professor in such a way.
"I think it's good for the students to see faculty interacting and coming at something from different angles and perspectives, but being able to work well together," Fogler said.
Fogler works with the juniors and Taft Young works with the seniors. They focus their curriculum around a 'learn, do, teach' basis. When the students first enter as juniors, they learn what academic advising is and the skills needed to be a good academic adviser. Once the foundational skills are developed, the PPAs put into action what they learned in the 'learn' phase. Students become the academic advisers and work with other psychology majors and prospective students. The end part is the 'teach' phase, when seniors then train the juniors to become academic advisers.
One of the major goals that Taft Young and Fogler have set for the peer advisers is to have them do empirical work within advising. They aim to gather evidence-based data showing where the resources are not reaching students and how to approach this.
"There are wonderful resources at JMU but unfortunately not all students know about them," Fogler said. "With academic advising, it's finding where the need is and actually taking an empirical approach to finding out, 'how can we address this?' in a really effective way that's useful to students and faculty and the department as a whole."
As the directors, Taft Young and Fogler not only set goals for the advisers, but serve as role models in their leadership as well.
"I think we're bringing elements of our teaching by mentoring them and guiding them on what it is to be a good professional, represent the department, be a leader and be someone who doesn't necessarily have all the answers, but knows when to utilize a resource or point that student to it," Taft Young said.
Though Taft Young and Fogler are making changes to the program, they are building on the foundations that DuVall established. Taft Young thanks DuVall for helping ease the transitioning process, for both the faculty and students involved.
"She's been very helpful in helping transition us to taking over and making sure that students are comfortable," Taft Young said.
Of her time serving the PPA program over the years, DuVall said, "I hope that I am remembered as a strong and kind servant-leader who always stood up for what I believed, who empowered young, intelligent, energetic students to keep reaching for their full potential, and who tried each day to make a positive difference in the lives of others."
Published: Thursday, September 20, 2018
Last Updated: Tuesday, October 16, 2018