News
Assessment and Measurement students present at the AERA and NCME conferences
---
By: Deborah Bandalos
Assessment and Measurement Program
Assessment & Measurement and Psychological Sciences students attended the annual meetings of the National Council on Measurement in Education and the American Educational Research Association in April.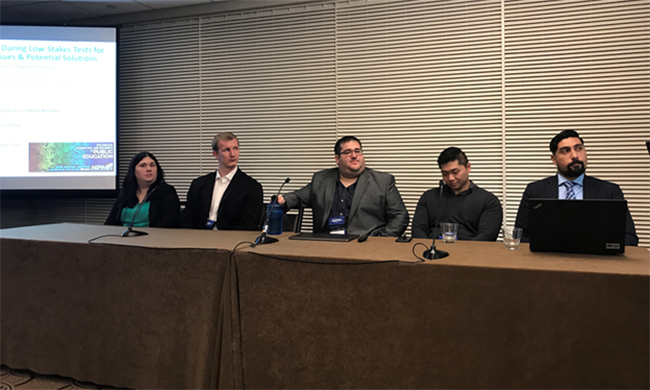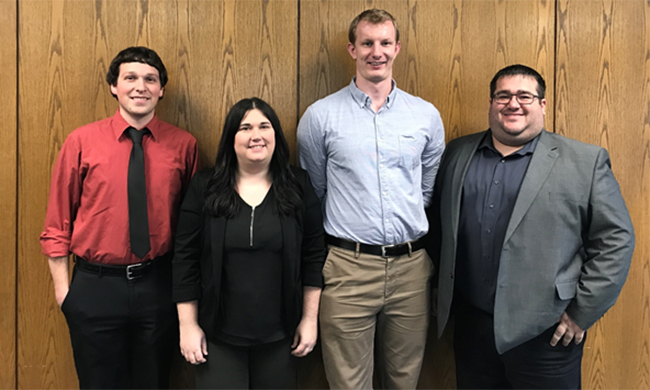 Beth Perkins reflected on her time at the conferences:
My first AERA was amazing! The session I enjoyed the most was a panel of professionals sharing their advice for current graduate students. The conference gave me the opportunity to connect with JMU alumni, professionals from testing companies, and fellow graduate students. With how large the conference is I was worried that the whole experience would be overwhelming, but it was not! Everyone I met was so welcoming, friendly, and willing to engage in conversation.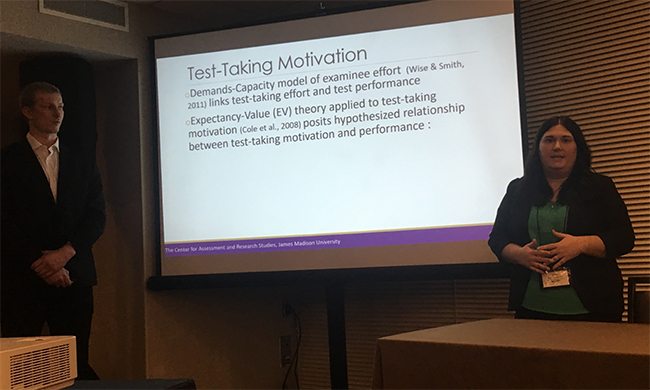 Derek Sauder commented on his experience at the NCME conference:
NCME is always both overwhelming and exciting. There are so many presentations on so many topics that it's impossible to hear about everything. I particularly enjoyed attending a pre-conference workshop on LNIRT models. It was an entirely new topic for me, but the presenter did an amazing job of keeping the material accessible! I'm looking forward to expanding my knowledge at next year's NCME as well!
Thai Ong enjoyed meeting researchers in his area:
I truly enjoyed my time at NCME/AERA this year. I was able to attend multiple research sessions related to my interests, network with alumni from the program, and present research I conducted with my advisor and at my internship last summer. My favorite part about the conference was getting to meet Dr. Steven Wise. I have read numerous works from Dr. Wise throughout my time in graduate year and have always wanted to meet him in person. I got the opportunity to meet him at the conference this year and he even gave me a compliment about my research study!
Students made the following presentations (student names are in bold font—other co-authors are faculty and alumni).
Au, C. H. Posterior Predictive Model Checking of Local Misfit for Bayesian Confirmatory Factor Analysis Using Public Data to Examine Potential.
Curtis, N.A., & Ames, A. Evaluating the utility of the Diagnostic Rating System for performance assessment.
Myers, A. J., & Finney, S. J. Does it matter when examinee motivation is measured? A moderated mediation analysis.
Myers, A. J., & Finney, S. J. Examining the effect of attributional bias: Is self-reported motivation a function of test performance?
Myers, A. J., Ames, A. J., Leventhal, B. C., & Holzman, M. A. (2018, April). An item response tree model for validating rubric scoring processes.
Ong, T. Q., & Pastor, D. A. The Effects of Administering Alerts at Fixed Points during a Low-Stakes Test.
Ong, T. Q., Kopp, J. P., & Jones, A. T. (2018). Is there Gender Bias on the American Board of Surgery General Surgery Certifying Examination?
Satkus, R., Finney, S.J., & Perkins, B. Going Beyond Test-Taking Motivation: Students' Emotional Reactions When Completing Tests for Institutional Accountability Mandates.
Sauder, D. C. Gender Invariance on the Test-specific Student Opinion Scale. 
Published: Wednesday, May 2, 2018
Last Updated: Wednesday, May 2, 2018