News
Psychological sciences students excel at measurement conferences
---
By: Allison Ames
Psychological Sciences Program
Two students from the Psychological Sciences Quantitative Psychology Concentration represented JMU and the Department of Graduate Psychology at the American Educational Research Association (AERA) and National Council on Measurement in Education (NCME) conferences in New York City. The conferences were held concurrently April 13-17, 2018.
Chi Hang Au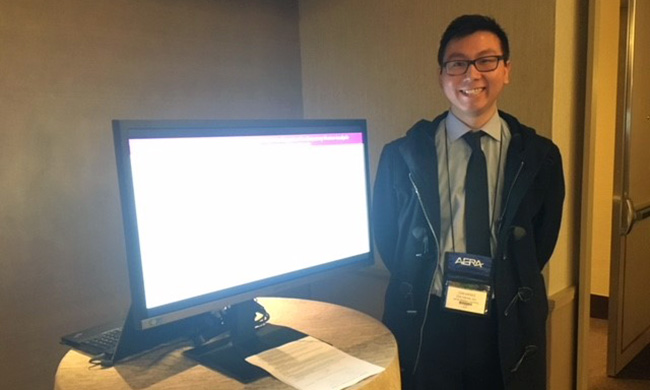 Chi Hang Au, a second year student in the quantitative psychology concentration, presented his thesis research at the in-progress research gala for graduate student researchers. A picture of his electronic board presentation at NCME is below.
Chi reflects at his time in New York and at the conference: 
"Going to NCME has been a great experience for me. The presentations in this conference aligned well with my professional and research interest in measurement. The sessions that I went to were mostly related to equating and linking. Since I am taking an equating class, I was able to understand major concepts and themes in those presentations; which, in turn, made me feel self-efficacious! This is a testament to both the teaching quality of our program as well as the timeliness of our courses. The concepts we learned in class served as scaffold for me to engage in the current research efforts and literature.
I also attended sessions regarding validity. Since the end goal of many educational research are to draw conclusions for decision-making, validity is a crucial component to discuss. From these presentations, I learned benefits and shortcomings of different programs that are used to evaluate instruments. I also learned about current issues in obtaining different types of validity evidence."
Chi's also benefitted from NCME's many professional development opportunities:            
"NCME also offered a mentoring program that matched working professionals and graduate students. I was fortunate to be paired with a psychometrician and he gave me lots of advice on graduate school, research, and current/emerging problems in the field. Our conversations really helped me in planning my doctoral experience purposefully to improve my software programming, writing, and research skills."
It sounds like a successful conference! Congratulations, Chi.
Paulius Satkus
Paulius Satkus, a first year student in the quantitative psychology concentration, received a 'Best Student Paper' Award from AERA's Special Interest Group: Measurement and Assessment in Higher Education. More information about the award can be found here: https://www.jmu.edu/news/chbs/2018/02-13-satkus-award.shtml. The picture below shows Paulius, on left, receiving his award at the conference.
Paulius reflects on the conference:
"After getting somewhat comfortable with the pace of NYC and richness of the AERA, I was getting ready to present our research. I think our session went well. There were other JMU graduate students participating in the session on test-taking motivation. The discussant in our session was very thoughtful and articulate and she planted some seeds for furthering our research…. I cannot wait to be back at JMU and get back to work, preparing for the end of semester and conducting more research!"
Paulius was also able to benefit from the international presence at the conference, meeting researchers from Germany, China, Malaysia and many others. In addition, Paulius attended a graduate student networking event, met with JMU alumni, and was introduced to some of the top researchers in the field. He credits his "tremendous advisor Dr. Sara Finney" for many of his experiences.
Nice work, Paulius, and congratulations on the award!
Published: Friday, April 27, 2018
Last Updated: Friday, April 27, 2018