News
Psychology faculty recognized for outstanding service
---
By: Caroline Whitlow
Creative Services Student Writer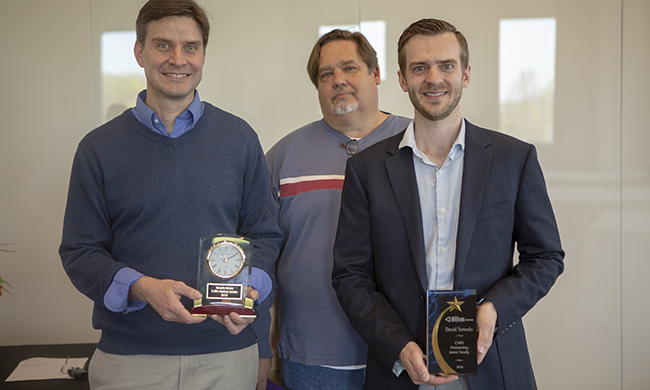 Three psychology faculty members received College of Health and Behavioral Studies Faculty Awards in 2018, an outstanding number for a single department. Professors Kenn Barron, David Daniel and David Szwedo stood out for their excellence in teaching and research.
Barron received the Madison Scholar award, which recognizes research contributions. The professor founded the Motivation Research Institute (MRI) and continuously studies the psychology of motivation along with research methods and the scholarship of teaching and learning.
Since coming to JMU in 2000, Barron has published an impressive body of work including one book, 17 chapters and 29 peer-reviewed articles. He has led workshops around the United States and will soon begin consulting with a Virginia Department of Education initiative to improve student motivation towards learning mathematics in rural public schools.
The Distinguished Teacher Award went to David Daniel, a professor who introduces over 900 students each year to the field of psychology primarily through instructing general education courses. He constantly strives to make his style more effective and maximize learning.
"I work closely with students and assess everything I do," said Daniel. "Teaching should be my main purpose as an employee here. I work to teach in the best way that I can. If I'm not doing that, then why am I here?"
Although Daniel teaches 300-person sections, he consistently receives stellar reviews from students and coworkers for making them feel like small seminars. His nomination included a student evaluation that described his Introduction to Psychology class as rigorous and interesting. "I learned how to work hard and gained a love for learning," said the student. "I now see psychology everywhere, even though I am not a psych major." The Princeton Review has listed Daniel as one of the nation's top 300 professors.
The college granted David Szwedo the Outstanding Junior Faculty award. Szwedo, who began working at JMU in 2014, oversees student field placement in addition to teaching courses in clinical and counseling psychology. He prepared and redesigned all of these courses to include engaged learning aspects through experiences beyond the classroom.
"I've been fortunate to teach classes that I think are naturally engaging for students, but I have also worked to promote engagement in them." explained Szwedo. "I hope that students recognize my enthusiasm for both the subject matter we discuss as well as for their learning and personal growth more generally."
"I thought Dr. Szwedo did a great job guiding us, but not telling us exactly how to solve a problem or a missed step. It was cool to watch myself and all of my classmates grow through this experience," said one of Szwedo's students in an evaluation. "The conversations we engaged in were stimulating and solution-oriented, which is exactly how we all need to think in real life settings."
Szwedo works closely with students as an academic advisor and through his research, which examines adjustment and peer relationships during the adolescence and young adulthood. He has expanded this research base by including online environments such as social networks in addition to in-person interactions.
Szwedo commented, "I've been very lucky to have been able to work intensively with outstanding students on research projects over the last 4 years. I think that the process I've established for them has helped them gain skills important for employment or post-graduate work. I've also been able to continue my own lines of research, which I hope inspires confidence in students that I can help successfully mentor them through the research process."
Published: Friday, April 27, 2018
Last Updated: Friday, April 27, 2018