News
Social work student presents honors project
---
By: Katherine Gentry
Creative Services Student Writer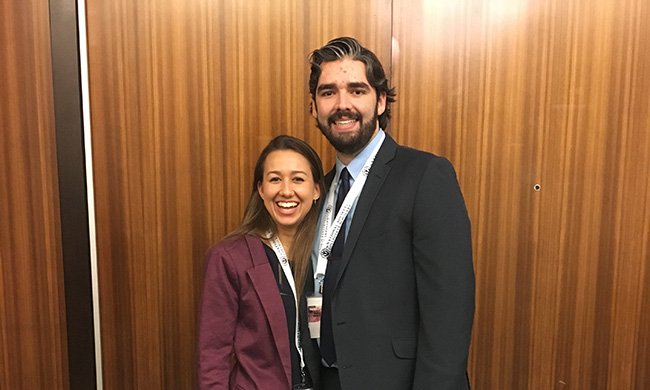 Senior social work student Haley Lipton's honors project was accepted for presentation at the 2018 Southern Regional Honors Council Conference. The project, "A Cross-Cultural Examination of the Effect of Employer Support on Employee Productivity," was a collaboration between Lipton and Shawn Tuman, an international business major with a concentration in finance. The project examined the relationship between the choice of an employer to support the health and well-being of their employees and the success of the organization. According to Lipton, this project confirmed her belief that people who are well supported are able to function better.
Lipton said, "When I heard that the project was accepted, I was thrilled. My excitement was rooted in the gratitude I have for the team that helped us get here and my genuine belief in the importance of the findings of our research. Knowing that I'd be presenting to people who could benefit from my project was an exciting opportunity to inspire the audience to value employer support in their professional decisions."
Lipton credits her success in part to the resources available at James Madison University. A team of advisers comprised of special assistant to the president Brian Charette, social work professor Karen Myers, and management professor Fernando Pargas supported Lipton by providing expertise, encouragement and editing. Lipton explained, "JMU prepared me for this project and for the conference by building my skill set and my confidence. Through my courses I have gained the skills necessary to compile, analyze and synthesize professional works. Through the relationships JMU has provided me I have gained the confidence necessary to speak comfortably and connect with my audience."
Attending the conference inspired Lipton to continue learning and seeking new information and encouraged her to pursue an interest in promoting social justice. Lipton said, "I have often dreamed of being a speaker, traveling to promote concepts of social justice, and this experience affirmed my commitment to pursuing that interest of mine." After graduating from JMU, she will attend the University of Pittsburgh to pursue a Master of Social Work degree and Integrated Healthcare certificate.
Published: Wednesday, April 25, 2018
Last Updated: Wednesday, April 25, 2018