News
CSD student receives $20,000 scholarship
---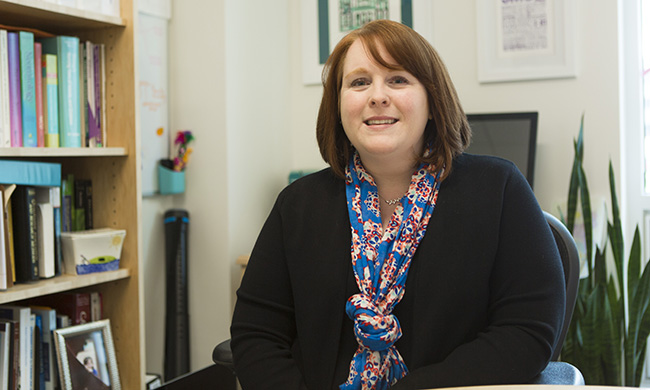 Communication sciences and disorders (CSD) doctoral candidate, Erin Clinard, has been awarded a $20,000 scholarship by the Council of Academic Programs in Communication Sciences and Disorders (CAPCSD), marking the second time in the four-year history of the scholarship program that a JMU student was honored.  CAPCSD is committed to addressing the Ph.D. shortage in CSD and has created a national scholarship program to support students pursuing a research doctoral degree focused on an academic career in the field.  
Clinard's proposal entitled "Learning to Manage Medically-Complex Infants: Effectiveness of High-Fidelity Simulation" was among the 10 scholarships awarded after a competitive process involving over 40 applicants.
Clinard's research focus area is in pediatric neurodevelopment and she is specifically interested in using innovative approaches to educate graduate students about complex, high-risk populations.
Her project will examine the viability of simulation as an effective learning tool for students to gain knowledge and confidence with medically-complex infants and will lay the groundwork for a line of research examining best-practices in clinical education.  Approximately one in 10 babies born in the US are born pre-term and are being exposed to environmental stressors they are unable to manage.  Comprehensive care of premature babies is critical, and the speech-language pathologist (SLP) has an integral role in providing this care.  It is crucial that SLPs entering the field have the requisite foundational knowledge, skills and confidence to support these fragile patients; however, it is not clear how students or early professionals might gain this experience since only about 21% of graduate programs have dedicated coursework in pediatric dysphagia or access to clinical practica in the NICU. 
Clinard explains, "My dissertation research is investigating the effects of using human patient simulation (manikins) on the knowledge, skills and confidence of graduate students.  I am collaborating with the nursing simulation laboratory and will use SuperTory®, an advanced newborn simulator that can be programmed to move, breathe, and even make facial expressions just like a real infant.  Students will engage in learning to assess a medically-complex infant to determine readiness to start feeding.  This is significant for speech-language pathology because the accepted use of simulation is new in our field.   The money from the CACPSD scholarship will allow me to complete this investigation by covering costs related to running a simulation (materials, programming the manikin, a standardized participant, etc.)." 
CSD department head, Cindy O'Donoghue comments, "The CSD department is extremely proud of Erin's accomplishment. This is a highly desirable, competitive grant. Erin's award is a testament to her research and the quality of her doctoral experience at JMU."  Her faculty adviser Carol Dudding agreed saying, "The winning of this award is an honor for Erin, the Communication Sciences and Disorders department and for clinical education.  There was much competition from students from research intensive universities.  For Erin to win this award as a JMU student and for research in simulation shows signs of a paradigm shift. We are all very proud of her innovative work."
"I am truly honored to receive such a highly competitive award from a prestigious organization like CAPCSD.  I am excited to continue my career in higher education." said Clinard. "This award elevates our Ph.D. program and its students by being highlighted on the national stage.  It speaks to the high-quality of the JMU Ph.D. program; especially the innovative and significant research that we are conducting."
Published: Monday, April 23, 2018
Last Updated: Monday, April 23, 2018