News
Kinesiology students and faculty attend SHAPE conference
---
By: Kinesiology Department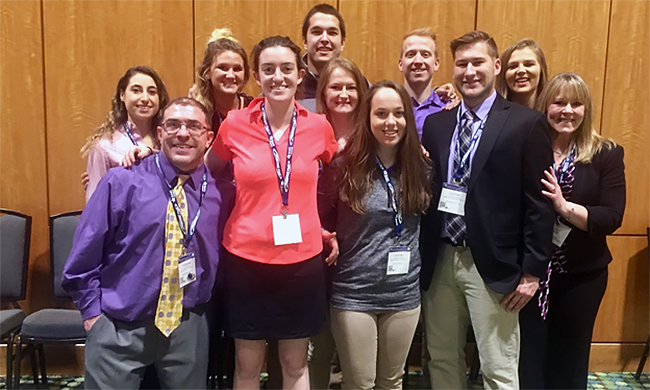 VIEW MORE PHOTOS FROM THE CONFERENCE
The 2018 SHAPE (Society for Health and Physical Education) National Conference & Expo was held March 20-14 in Nashville, TN.   Two faculty, 6 grad students, 3 undergraduate students from JMU attended the conference.
Below is a summary of the activities of JMU faculty and students during the conference:
Developing sports programs for children with disabilities in rural America
Matthew Lucas
Tom Moran
Colter Bennett
John Altemose
Makenzie Pigg
Briana Bissell
Ability first?  Showcasing the abilities of all students
Tom Moran
Matthew Lucas
Brad Weiner
Inclusion PE?  Challenges and strategies for improved participation
Teresa Martilik
Tom Moran
Impact of Paralympic skill lab on college student cognitive attitudes toward inclusive lifetime sport and fitness
Cathy McKay
Jung Yeon Park
Relationship between exercise exertion, enjoyment and actual exertion in individuals with autism
Nicole Fiscella (graduate student)
Structure, validity and reliability of the CAIPE-R: Collegiate version
Cathy McKay
Jung Yeon Park
JMU Major of the year
Clay Harris was recognized as the JMU Major of the year.  JMU faculty select this individual.  Criteria for the award include; a) current SHAPE America member, b) be a junior or senior HPERD major, c) have a GPA of 3.0 or higher, and d) provide service to school or community for a minimum of 2 years during their undergraduate career. 
Published: Thursday, March 29, 2018
Last Updated: Thursday, March 29, 2018