College of Health and Behavioral Studies
#CHBSChats with Biniam Abraham
Read more about Biniam's time in the Physician Assistant Program
---
Series produced by: Morgan Bond
Creative Services Social Media Assistant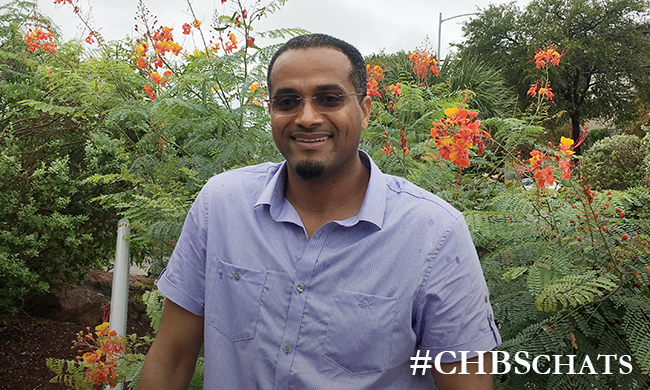 Why did you choose to become a PA? 
I was born and grew up in a small country called Eritrea, located on the eastern coast of Africa. War and news of war is commonplace for daily life as an Eritrean. In 1989, the revolutionary movement tried to liberate my city from the invading Ethiopian forces. The enemy bombarded the city and its vicinity indiscriminately leaving wounded men, women and children in their wake. In that moment, I decided to be a healer to alleviate the suffering of my people, returning smiles to the children's faces.
How has the physician assistant graduate program been a good fit for you? 
Our PA Program has a small class, only 30 students per cohort. This intimate class size fosters a supportive environment and a unique camaraderie between my classmates and me. Being thousands of miles away from my family it provided me with home away from home.
What's been the most rewarding experience you have encountered in your program so far? 
Our faculty secured grant funding for the JMU PA program to work with clinicians at the Harrisonburg- Rockingham Free Clinic. Working at the clinic with community members who lack access to health care and learning from the compassionate clinicians and supporting staff has been the most rewarding experience for me.
What clinical rotations have you been involved in? 
So far, I have completed an internal medicine rotation at in-patient hospital in Richmond, VA. This rotation has been a valuable lesson in terms of evidence-based medicine and team work. I have had an opportunity to learn from some of the best and caring doctors, PAs, NPs and nurses. I'm looking forward to my upcoming family medicine rotation in northern Virginia.
How have these clinical rotations been beneficial to your growth in the program?
There is only so much you can learn from books and in class lectures, but when you are out there among patients listing to their stories, challenges and medical issues you being to understand medicine and grow as a future clinician. The patients and their families rely on you for their wellbeing. It has been a humbling experience learning on how to be a compassionate, caring provider of health care for patients in their times of need.
What do you think makes the JMU PA program unique?
During orientation, the first thing the faculty explained to us was to set aside the trivial competition among each other and to build an environment supportive of cooperation - to look after each other as friends and colleagues, not just students. The second important aspect of the graduate program was the profound sense of service to the community around us. These are what make the JMU PA program unique and that make me proud to be part of it.
What kind of setting do you see yourself working in after finishing the program?
I'm leaning toward a career in orthopedic surgery.  I plan to continue to volunteer here in the community and abroad in my home country Eritrea. In the future, I would like lead medical missions in Uganda, Ecuador and Panama; these countries were welcoming and supportive when I was a refugee, before making it to the US. I think it is fitting to pay them back as best as I can.
Just for fun...
Favorite place to eat in Harrisonburg?
Jimmy Madison's

Do you have a hobby?
Soccer, Cycling, and Hiking 

Favorite TV show?
Friends and Game of Thrones

Favorite junk food?
Definitely a burger!

Best piece of advice?
Let's always have hope for a better future and never stop growing.
Published: Monday, March 19, 2018
Last Updated: Monday, March 26, 2018