News
Students volunteer with rescue squad
---
By: Caroline Whitlow
Creative Services Student Writer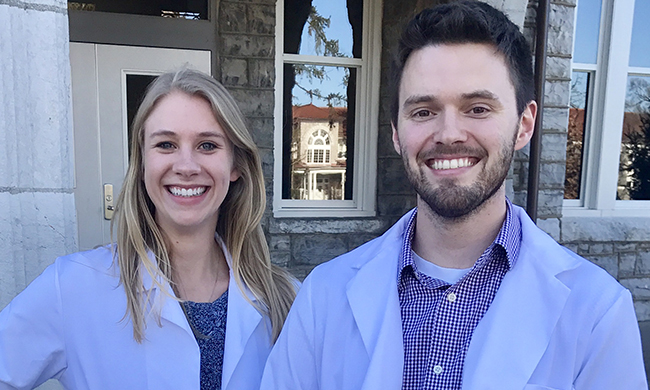 On top of balancing demanding academic schedules, physician assistant (PA) students give back to the community by volunteering their time to the  Harrisonburg Rescue Squad (HRS). Through HRS, students gain clinical experience as emergency medical technicians (EMTs) while the rescue squad benefits from having trained staff on-call around the clock.
Harrisonburg Rescue Squad receives upwards of 25 calls daily, making it one of the busiest emergency medical services stations in the state. All volunteers must attend extensive training in a variety of topics in order to meet such high demand.
"Everyone begins on the same page whether they come in with their EMT certification or just a CPR certification," said PA student and Paramedic Michael Roper.  "There are many different training processes that you complete throughout your membership, aimed at teaching each member how to be a part of a team on an ambulance, how to be an effective EMT and crew member, how to be safe, how to drive and how to lead.
As an all-volunteer organization, HRS trains members with a wide array of backgrounds and experiences. Students gain an appreciation for interdisciplinary collaboration as they work towards the common goal of providing emergency services.
"I learned to drive an ambulance from a carpenter and a retired truck driver. During my EMT training, my main preceptor was an ER nurse, but I also trained under college students, lawyers, law enforcement officers, members of military, emergency dispatchers, physician assistants, flight paramedics, firefighters, nurses and many more backgrounds," said Roper.
Volunteering with the rescue squad also allows graduate students to engage with the surrounding community through interactions with both patients and other volunteers.
"Through my experience, I have met many different people that come from a variety of backgrounds and experiences . In this community so many people are willing to lend a hand to someone in need. It is a characteristic that makes Harrisonburg a very special community. HRS is an 100% volunteer agency and members dedicate many hours a month to serve the Harrisonburg community. ," said PA student and HRS volunteer EJ Meaney.  "I am so happy to continue to grow and learn as a physician assistant and personally from this community."
Work with HRS involves developing meaningful connections with supervisors.  Meaney and Roper cite their relationships with preceptors as major sources of inspiration and education.
"My preceptors for EMT and paramedic stand out. Both are incredibly knowledgeable, strong women who supported and empowered me over many months to learn all that I could and feel comfortable being a leader," said Roper. "My preceptors taught me how to manage an emergency scene while also stressing the importance of teamwork in delivering the best healthcare to patients." 
Serving Harrisonburg Rescue Squad affords unique educational opportunities for future health professionals. The work can present unforeseen circumstances, forcing students to navigate the unpredictable.
"Working as an EMT, it is extremely important to be able to think quickly and effectively. We train and prepare for many different situations, but once on the scene of an emergency you need to be able to tailor all the knowledge that you have to the situation in front of you," said Meaney.  "This has been something that has challenged me, but taught me so much about myself and about what it takes to be a good health care provider."
Those interested in volunteering with Harrisonburg Rescue can find more information on the rescue squad's website.
Published: Monday, March 5, 2018
Last Updated: Monday, March 12, 2018