News
Alumna works to improve geriatric care
---
By: Caroline Whitlow
Creative Services Student Writer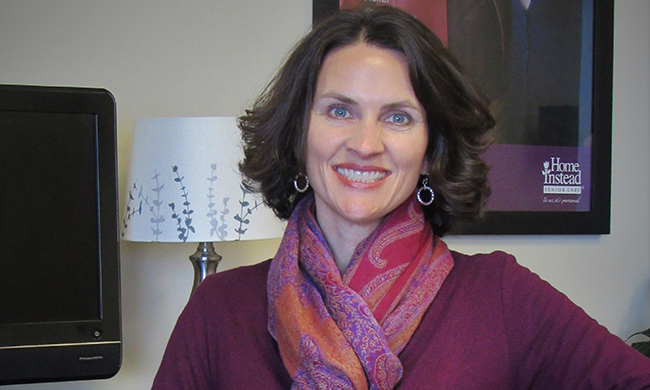 An estimated 83.7 million individuals will reach senior status by 2050, more than doubling the population of older adults recorded in the 2012 US Census.  In light of this rapidly changing demographic, social workers must prepare themselves for meaningful work with aging populations.  Alumna Jeannette Suter ('99, '02) has worked in numerous roles to promote comprehensive senior care.  An advocate for aging-in-place, Suter currently serves as marketing director for Home Instead Senior Care.
"Social workers should consider the challenges that are ahead of us in regards to population demographics on the national level.  It's an exciting and challenging time to rethink programs and discover innovative solutions," said Suter. 
Suter cites her close relationship with her grandfather as the source of her interest in gerontology. Throughout her time in college, the two would send weekly letters back and forth.
"I could clearly tell through his letters that he was developing dementia," said Suter.  "Once, he just sent me a blank page.  Some of that experience geared me towards gerontology.  It turned a light bulb on."
When it came time for her senior year field placement, Suter worked as an intern at Bridgewater Retirement Community.  The placement enhanced her communication skills and understanding of client-caseworker relationships. 
"I really enjoyed all parts of the internship, but especially working with the residents.  I was given my own caseload, so it was very exciting.  I still remember one resident, Virginia, that I got very close with," said Suter.  "She died during my internship, and it hit me like a ton of bricks.  It taught me a lot about professionalism and how to keep that separation between myself and my clients while still building rapport."
After graduating with her Bachelor of Social Work in 1999, Suter began working as the admissions coordinator at a nursing home.  She then returned to JMU and earned a Master of Public Administration in 2002.
"The social work program taught me a lot about working within systems at the micro, mezzo, and macro level.  I also took family studies courses and learned a lot about working with individuals and families in general," said Suter.  "The master's program gave me more of a business foundation.  I learned about human resources and policy, and I could tell that I had more interest in the non-profit sector."
With both degrees behind her, Suter had a broad skill set applicable to numerous roles.  She filled in as a medical social worker at Sentara Rockingham Memorial Hospital before a local non-profit, Generations Crossing, hired her as Executive Director.
For four years, Suter served the adult daycare center and networked within the local gerontology community.  Generations Crossing has since grown to include children's daycare, an opportunity for older adults and the youngest generation to build relationships.  Suter's leadership experience at the non-profit led her to begin a geriatric care management company, where she served as president until 2013.
"I was very involved at the community level in all of these different jobs.  I worked within a circuit.  Unfortunately, my duties within my own company were interfering with my duties as a mom, so I began looking for positions with more regular hours," said Suter.  "That's when I found an opening at Home Instead Senior Care."
Within a couple of months, the senior care company promoted Suter to marketing director.  She now enjoys a role that promotes the services of Home Instead while also collaborating with other community organizations to help understand and meet the needs of older adults and family caregivers. 
"We are devoted to doing what's best for the community overall when it comes to in-home care, so we work hard to build relationships and rapport," said Suter.
Throughout all of her roles, Suter has learned that the most important value when working with the aging population is respect.
"The longer I work with older adults, the more I realize they are the greatest generation.  I am completely humbled by the experience of aging," said Suter.  "Having respect, for me, is pivotal.  This population is going through so many life changes and challenges. I can't quite imagine their strength."
Those seeking volunteer experience with the elderly can find local opportunities at Generations Crossing and Bridgewater Retirement Community. For more information about Home Instead Senior Care, please see the company's website.
Published: Wednesday, February 28, 2018
Last Updated: Thursday, January 17, 2019