News
PA program partners with Free Clinic
---
SUMMARY: Now in the second year of a five year grant from the Health and Human Services Administration, the Physician Assistant students reflect on their first year experiences at the clinic.
---
By: Caroline Whitlow
Creative Services Student Writer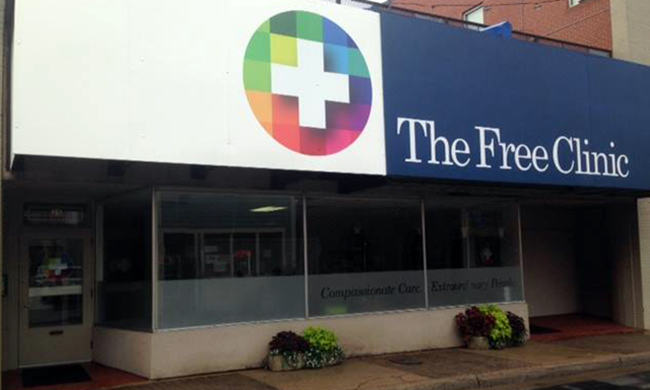 First year students in the physician assistant studies (PA) program are gaining clinical experience and serving the community through a JMU partnership with the Harrisonburg-Rockingham Free Clinic. 
The program, funded by a five-year federal grant from the Health and Human Services Administration, is mutually beneficial.  While students practice taking medical exams and interacting with patients, the clinic gains skilled staff members and medical supplies purchased with grant money.
"I really enjoyed having the opportunity to work with patients at the Free Clinic during our didactic year. I was able to apply things we were learning in the classroom at the same time as seeing patients," said second year student Erin Shea. "This opportunity to be introduced to patient care during the didactic year is unique to the JMU PA program, as most programs do not start clinical work until completing all the studies of didactic year."
Partnering with free medical services offers important exposure to the unique experiences of low-income patients, and students learn how to develop meaningful relationships with populations who would otherwise struggle to find care.
"I was surprised by the daily challenges these patients face when trying to receive adequate medical care at other facilities," said Briana Ciampi, who completed her hours at the Free Clinic last year.  "My greatest joy while working at the clinic was connecting with the patients and becoming a confidante and advocate for them."
The experience also allows students to engage with an interdisciplinary team as professions come together to provide comprehensive treatment.  Professionals at the clinic act as both colleagues and mentors to the PA students as they adjust to the role of primary care provider.
"Every morning before we started seeing patients, we would have a group huddle to discuss the plan for the day, make sure everyone was equipped and ready, introduce new staff, and talk about positive moments and events," said student Samantha McKittrick.  "The nurses were always willing to answer any questions that we had and taught us how to perform many of the skills they perform daily.  The pharmacists were always available to answer questions we had about medications, and all of the other staff were supportive and willing to offer help and insight."
Most PA programs do not offer clinical experience within the first few months, and students appreciate the unique opportunity.  Ciampi said that the positive experience she had at the Free Clinic solidified her desire to go into a primary care setting after graduation. 
"The patients were so appreciative of the care they were receiving, and that made my job so much more meaningful," said Ciampi.  "Despite their individual hardships and vulnerability, patients were always willing to work with the JMU PA students and enjoyed contributing to our education.  I am now certain primary care is the field where I am meant to be."
For some students, serving at the Harrisonburg-Rockingham Free Clinic provides inspiration to continue working with underserved populations in their professional lives. 
"I know that I will continue to volunteer my time at a free clinic once I become a licensed practitioner. I think that it is really important to be involved in the community and give back as much as you can," said McKittrick.  "I know that I will have really valuable skills as a healthcare provider, so I want to use my skills to impact as many lives as possible."
The Harrisonburg-Rockingham Free Clinic seeks volunteers with a wide variety of skills and backgrounds.  Learn more about opportunities to serve on its website.  
Published: Thursday, February 22, 2018
Last Updated: Thursday, January 17, 2019