News
Claire Lyons receives General Education Distinguished Teacher Award
---
By: Katherine Gentry
Creative Services Student Writer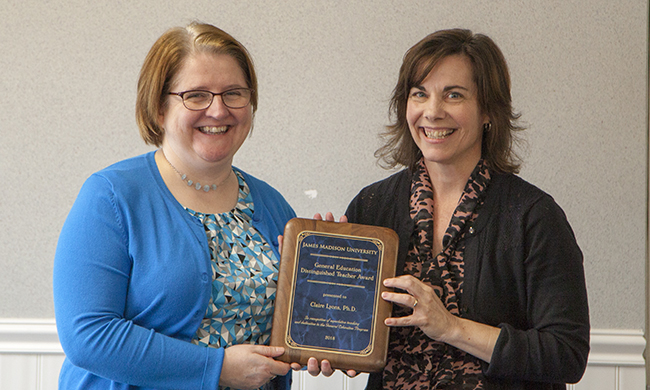 Psychology professor Claire Lyons has been awarded the General Education Distinguished Teacher Award in recognition of her dedicated service and ability in teaching students.
 "I considered it to be a real vote of confidence and validation from my department to nominate me," Lyons said.  "I've put a lot of work into the class to make it as effective as possible so it was very exciting to be nominated. I was absolutely thrilled when I heard that I had won."
Lyons enjoys teaching Life Span Human Development, a general education psychology class on human development because of the diversity of majors in her class as well as her own interest in developmental psychology. She explained, "I really like development and looking at how we become the people that we are, the things that influence us, the choices that we make along the way, how we can positively impact development for ourselves and for people in the future."
Her favorite thing about James Madison University is the engaged and respectful students. Lyons detailed, "I love the feeling when you work on a concept with the students and you get the sense that they get it. It's really engaging and fun when you are bringing ideas to students and they understand. The connection around the knowledge that we are trying to build is very exciting."
Each year, the General Education Distinguished Teacher Award recognizes one faculty who teaches within the general education program and demonstrates excellence in impact on students' mastery of one or more of the relevant cluster's learning objectives and aiding in students' ability to make interdisciplinary connections. Nominations can come from students, colleagues or department heads.
According to psychology department head Kevin Apple, Lyons is an exceptional educator who keeps students engaged and is devoted to the mission of general education. Even with a class of 300 students, Lyons is able to connect with her students and keep the class interactive. She chats with students while they work in groups, walks around the whole classroom during lectures and utilizes clicker questions to keep all students involved. These efforts are effective in keeping the class engaged. Students frequently remark that the class feels small and well connected. Her ability to connect with students and relate information to them makes her an outstanding professor. 
To permanently recognize Lyons' achievement, her name will be added to a plaque in the university studies office. On February 19, 2018, a luncheon was held to honor her achievement.
Published: Monday, February 19, 2018
Last Updated: Monday, February 19, 2018