News
Giving Day funds make a difference
Your gift helped our graduate psychology program
---
By: Caroline Whitlow
Creative Services Student Writer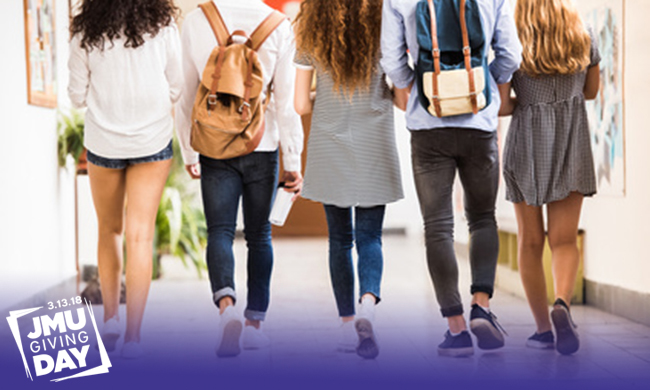 The department of Graduate Psychology used its portion of the last year's Giving Day funding to purchase training materials for Higher Ground, a project aimed at battling adolescent substance abuse in public schools. 
"We are using the money to support our initiative to develop a training model for school psychologists and nurses to be able to complete intakes, screenings, and interventions for mild to moderate substance abuse disorders with adolescents," said professor Debi Kipps-Vaughan. 
Kipps-Vaughan saw a need to address teenage substance abuse and began a collaborative effort with public high schools in a nearby county. Using materials from the program Teen Intervene along with additional services such as support groups and psychoeducation, Kipps-Vaughan and her team have implemented a treatment program facilitated by trained students.
Nursing professor Joy Harnage collaborates with the project, contributing her medical expertise on addiction and making the opportunity an interdisciplinary experience.  Nursing and graduate school psychology students collaborate to complete intake assessments.  The comprehensive assessments determine students' histories and provide insight to individual treatment needs.  After intake is completed, graduate psychology students go forward with treatment. 
 "It is a joint effort, so we are really working together," said Kipps-Vaughan.  "We had a collaborative seminar to learn about the effects of substances from the nursing students and then learn more about the treatment aspect from the school psychology students."
In an attempt to acquire the necessary training materials, Kipps-Vaughan had applied for a competitive grant.  After being denied grant funding, she was thrilled to receive a portion of Giving Day donations that allowed Higher Ground to move forward.
 "I did not have any means of purchasing the program," said Kipps-Vaughan.  "When I learned that we would receive funds from Madison Giving Day, it really was a wonderful support for both the program materials and travel reimbursements for students who are volunteering their time to work in local high schools."
In the midst of a national opioid crisis, Kipps-Vaughan hopes to expand substance abuse training for school psychologists.  She will present the mission and impact of Higher Ground at an upcoming national conference.
Those interested in supporting programs like Higher Ground can donate to the College of Health and Behavioral Studies Fund on this year's Giving Day, which will take place on March 13.  Donations can be made online or by phone at (855)568-4483.   
Last year's Giving Day was an overwhelming success.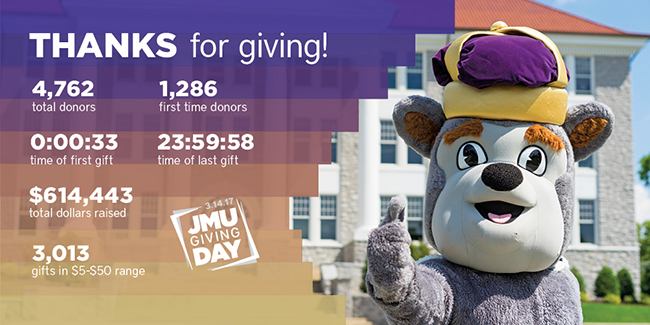 Published: Friday, February 16, 2018
Last Updated: Tuesday, March 27, 2018