College of Health and Behavioral Studies
Giving Day funds make a difference
Your gift helped our social work program
---
By: Caroline Whitlow
Creative Services Student Writer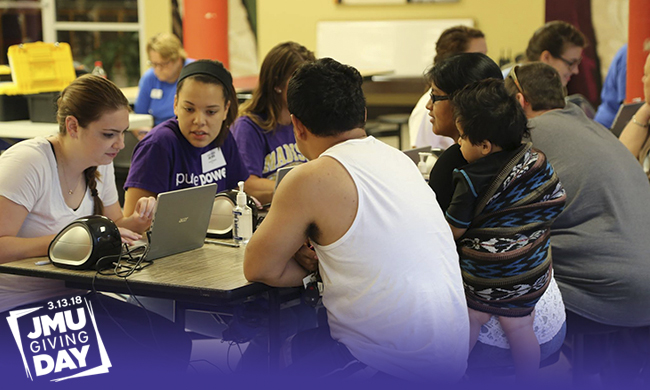 The social work department dedicated its portion of Giving Day funds to expand student participation in the Rural Area Medical Volunteer Corps. (RAM), a healthcare outreach initiative.
RAM pop-up clinics bring professional medical services to underserved areas. As a service learning component of the rural health elective, students assist with administrative tasks at RAM clinics throughout southern Virginia and eastern Tennessee.
The program has grown significantly since its creation, and JMU is currently working with community partners to bring a RAM clinic to the Harrisonburg/Luray area.  The clinic is expected to open its doors in 2019.
"We are very excited to facilitate JMU working collaboratively with the community on this big undertaking," said Department Head Lisa McGuire. 
Donations have made the opportunity to volunteer in a RAM clinic more accessible, as students used to pay $100 each to participate in the elective.  Giving Day funds from 2017 will cover expenses for all transportation, lodging and meals in the summer of 2018.
"Unfortunately, there are significant needs in every community.  Learning how to provide both voluntary and professional service is a guiding value of the social work profession," said McGuire. "We don't want the charges for the experience to be a barrier in having students participate."
You can help meet community needs by supporting to the College of Health and Behavioral Studies on this year's Giving Day, which will be held on March 13.  Donations can be made online or by phone at (855)568-4483.  
Last year's Giving Day was an overwhelming success.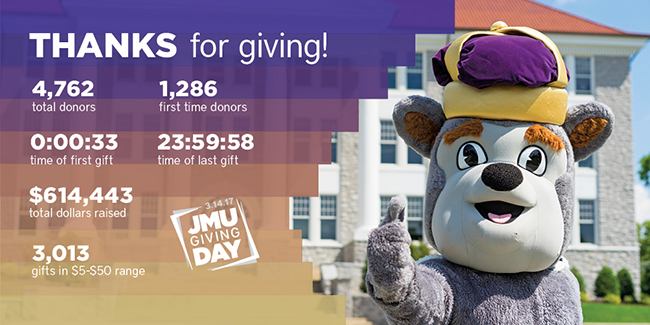 Published: Wednesday, February 14, 2018
Last Updated: Tuesday, March 27, 2018