News
JMU classmates finish the Rehoboth Beach Marathon
---
SUMMARY: KIN 100 students prepare for and complete a marathon over the course of a semester
---
By: Laura Mack '16
Creative Services Student Writer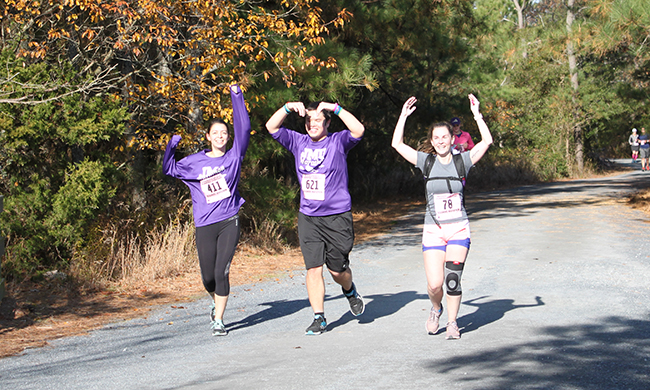 Running a marathon takes grit. Intensive physical and mental preparation is required to successfully execute a 26-mile run, which typically amounts to about four or five continuous hours of running. One might think that college students – with classwork, studying and extracurricular activities to juggle – would shy away from this time-consuming challenge. Coach Bill Walton and students in the Specialty Marathon section of the KIN 100 course beg to differ.
"This is a unique class – I haven't encountered any other university that offers something like this," asserted Walton, former director of track and field and cross-country at JMU. As the instructor of the marathon-training course, Walton prepared students through the fall semester to run the Rehoboth Beach Marathon in Delaware on December 4.
JMU Associate Vice Provost, Meg Mulrooney added, "The KIN 100 course fulfills the wellness requirement of Cluster 5 in the general education program. JMU is very unusual in that it requires all undergraduates to meet wellness outcomes—so important in an era of myriad health crises. Additionally, the General Education program defrays the costs of training and competing in the marathon."
The class provided students with a diet and exercise regime that can be applied even after the course concludes. Students followed a structured training program that included four days of running, which were generally increased in length by one or two mile increments each week. Once a week, the class completed a long run together which can last an upwards of 18 miles. During off days when students are not running, Walton taught them to individually tailor the program to fit their needs. Students were free to do any physical activity of their choice based on how their bodies felt – ranging from high-intensity exercise classes to meditative yoga to stretch and rejuvenate for the next run.
Class time allowed for Walton to build one-on-one coaching relationships with each student. "The challenge for me is to identify what little mechanism needs to be changed to get them feeling good about things," he said. One student began the semester with a stress fracture she had been nursing over the summer, and Walton worked to ease her back into running – putting her on the elliptical, bike or in the pool during class time. "Last week she ran 8 miles, and this week she'll run 10 no problem," he stated confidently during October. "Things can either be treated as a speed bump or a brick wall. That's their choice."
While training for a marathon is undoubtedly a physical challenge, it is just as much a mental feat. "Something that you don't normally practice is mental toughness," said student Valerie Cateriano. "It's interesting now to be more aware of that. You think, 'is my body really tired, or am I just tired because my brain is saying I want to stop and I'm being lazy.'" Sarah Kullman, another student in the class, expressed the time management and dedication it requires, too. "As a college student it's so easy to say, 'I have to study, so I don't have time.' It's important to push yourself because if you slack off, you hurt yourself in the long run," said Kullman.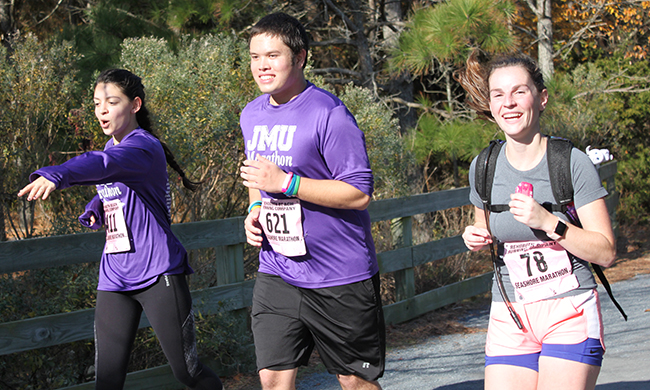 Walton himself is upfront about the failures students will face in training. "It's something people don't talk about much, but I go there. You're going to fail at some point," he said. "For example, when you first tried to walk, you probably fell. But, you get around campus just fine today." Walton continued, "Failure is not a bad thing. It's how we respond to it. That's the thing with a marathon. One day, the long run might be great, but the next run might not go as well. The days that all the stars align and when everything is working, those are the days that you cherish."
Certainly, students found much to cherish about their physical and mental progress, despite its hardships. "You have to learn how to deal with defeat and then how to get back up, get over it and do your next run," said Cateriano. "I know I'm getting stronger every day, and when I finish, I can say this is an accomplishment of mine."  With that mindset, students are able to push through and realize their personal successes. "There's a two-mile marker by this airport at Bridgewater, and every week I'm so surprised by how much faster that mark comes. I barely even notice two miles anymore," said Kullman.
When December 4 finally came around, Coach Walton and many proud parents gathered around the Rehoboth trail to cheer on the newly accomplished marathon runners. "It was definitely challenging, but having our coach and some of our families there was very encouraging," said student Caroline Whitlow. "Every time someone from our class crossed the finish line, it was exhilarating." Since Walton began teaching the class, only one student that has started the marathon has been unable to finish.
Published: Wednesday, January 17, 2018
Last Updated: Tuesday, January 23, 2018