News
Overcoming Barriers Halloween event
---
By: Trudy Horsting
Creative Services Student Writer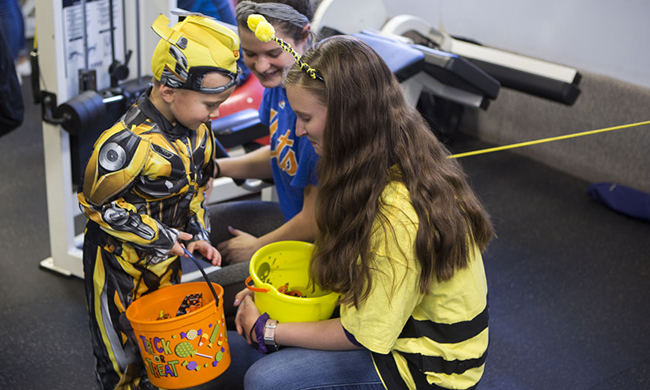 On the evening of Nov. 1, JMU students put on their best Halloween costumes to celebrate the holiday with area youth who happen to live with a disability. The event, put on by Project CLIMB of Overcoming Barriers, showcased the abilities of these children. "So often when we see a person with a disability we focus on all the things they can't do" said Tom Moran, Executive Director of the Empowerment 3 Center and Overcoming Barriers. Moran said, "We take whatever ability a participant has and we maximize it to allow them to have the same opportunity as anybody else." Heather Hanks, director of Project CLIMB, explained that the event's environment enhanced the holiday experience for the whole family.
Project CLIMB is one of 16 health and physical activity programs offered every semester by Overcoming Barriers, serving over 200 local children, adolescents and adults with disabilities. Moran founded the organization in 2010 after seeing a need for a physical activity and wellness program for underserved youth. Project CLIMB is a mentoring program run by kinesiology students at JMU and it is these student volunteers who help put on the annual Halloween event.
The event took place in Godwin Hall, where various organizations set up trick or treating stations, haunted houses and a variety of games and activities. This year included a record high number of JMU organizations. Some of the groups who participated were the men's and women's soccer teams, swimming and diving, lacrosse, track and field, gymnastics, volleyball, the Hart School and students from KIN 100 classes. 
Participants were divided into four groups based on age and led to the various stations and activities by Project CLIMB mentors and student volunteers. Hank says, "Everybody is there for those kids, to make their night the best it can possibly be. It's so rewarding to see the smiles on their faces."  One of her favorite highlights from the evening was when a parent came up and said, "My child has never been able to trick or treat, and here he's participated for a full hour and has more candy than we know what to do with. But more importantly, I just saw him, while being cheered on by three men's soccer players, shoot a basket. It's something he's never been able to do before because he gets too frustrated with himself." Stories like these demonstrate the impact this program can have.
Moran's hope is that in coming years the event will double in size. He believes it's something the entire JMU community could get involved with. Moran reflects, "To see groups come together to be part of something that's bigger than themselves, I think that's what JMU's 'Be the Change' is all about. It's saying this isn't about me at this moment in time, it's about me giving myself to make somebody else better." He continues, "It will always be about the participants but it's also about the JMU students and the opportunity they have to interact and actually see ability." Moran says it changes the mindset of volunteers. "The next time they look at someone who has an obvious physical disability- they start to see what that person can do instead of what they can't. That's the power of this event."           
Published: Monday, January 8, 2018
Last Updated: Monday, January 8, 2018