News
Governor names JMU alum to fellowship
PoliSci grad Jordan Burns joins inaugural cohort
---
A JMU grad was among the inaugural cohort of the Virginia Management Fellows program announced by Gov. Terry McAuliffe in the final days of his administration. Jordan Burns receiving his Master's in political science from JMU after receiving is bachelor's from Virginia Tech.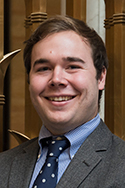 The program is an initiative of the Commonwealth of Virginia developed with Virginia Tech to meet the state's needs for future leaders.
The General Assembly approved the learning program, salary, and benefit structure of the VMF. The program's principal leader, Secretary of Finance Ric Brown, worked with finance colleagues, executive cabinet members, legislators, and faculty members from Virginia Tech's School of Public and International Affairs to design a comprehensive learning program for the new fellows.   
The VMF program aims to create a succession pipeline for leadership and management jobs in all branches of state government that will be in high demand as current employees begin to retire. According to recent data from the Commonwealth, 42 percent of general managers, 39 percent of financial managers, and 30 percent of compliance and safety officers will be eligible for retirement within the next five years.
The VMF program features four major learning components: customer service; operations; legislation, regulation, and compliance; and analytics. Each fellow is assigned to and embedded within a state agency for a rotation around these learning areas. A special feature of the rotation is the support and guidance of a mentor-leader in each agency supporting a fellow.
The original press release, from the office of JMU graduate Brian Coy, press secretary to governors McAuliffe and Northam, can be found here.
https://governor.virginia.gov/newsroom/newsarticle?articleId=23615
Published: Tuesday, January 30, 2018
Last Updated: Tuesday, January 30, 2018