College of Visual and Performing Arts
Jazz 4 Justice: Charitable Concert Features JMU Jazz Ensemble and Faculty, Local Celebrity Guest Conductor
---
Jazz 4 Justice: Charitable Concert Features JMU Jazz Ensembles and Faculty, Local Celebrity Guest Conductor
The Forbes Center for the Performing Arts at James Madison University in cooperation with Virginia State Bar's Diversity Conference will present Jazz 4 Justice featuring the JMU Jazz Ensemble directed by Dr. Chuck Dotas, the JMU Jazz Band directed by Dr. David Stringham, award-winning faculty members, and special guest conductor WHSV-TV3 Meteorologist George Hirschmann. This annual concert benefits Blue Ridge Legal Services and JMU's School of Music Scholarships. It takes place on Saturday, October 4 @ 8 pm in the Forbes Center Concert Hall.
Jazz 4 Justice will feature hits from the big-band swing era, and audience members are encouraged to bring their own instruments to participate in a post-concert jam session in the Forbes Center Grand Lobby.
The first Jazz 4 Justice concert was held at George Mason University in 2001. The concert is now in its 13th year at GMU, and has since spread to four other universities across the Commonwealth including James Madison University. According to program founder and Virginia State Bar President-Elect 
Ed Weiner, "the concert is a unique partnership between education, music and law, and it is exciting that JMU is now in its fourth year of holding the event."
Established in 2010, the Virginia State Bar Diversity Conference provides a unique opportunity for those in the legal profession to assist in meeting the needs of an increasingly diverse population. The Diversity Conference focuses on fostering and encouraging diversity in the judiciary, to facilitate diversity in professional leadership opportunities and to ensure that Virginians' changing legal needs have been met.
Blue Ridge Legal Services, Inc. (BRLS) is a nonprofit charitable law firm providing free legal assistance in civil matters of critical importance to low-income residents of the Shenandoah Valley and Roanoke Valley. The BRLS mission is committed to eliminating poverty-based inequities in the civil justice system. BRLS is dedicated to providing high-quality legal advice and representation to low-income residents, who would otherwise be unable to obtain legal help due to their poverty.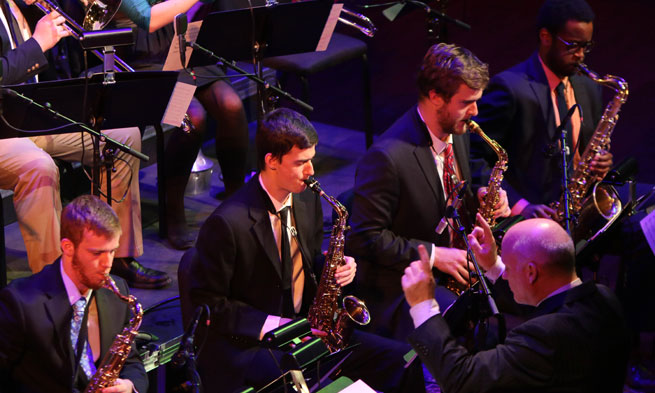 Director Chuck Dotas conducts the JMU Jazz Ensemble.
The JMU Jazz Ensemble and Jazz Band were founded in 1971; membership in each ensemble is determined via audition each semester. JMU jazz groups have performed at the Kennedy Center for the Performing Arts' Terrace Theater, Montreux International Jazz and Blues Festival, North Sea Jazz Festival and Virginia Music Educator's Association annual convention.
The JMU Jazz Ensemble has been featured with the U.S. Navy Commodores Jazz Ensemble and U.S. Air Force Airmen of Note Jazz Ensemble and at the East Coast Jazz Festival in Rockville, Maryland. The ensemble has performed with renowned artists like Bobby McFerrin and esteemed jazz vocalist Sheila Jordan.
Jazz 4 Justice tickets are $15. For tickets, visit www.jmuforbescenter.com or call the Forbes Center Box Office at (540) 568-7000. Contact Jen Kulju, public relations coordinator at the Forbes Center, at (540) 568-4394 or by email at kuljuja@jmu.edu for further information.
Published: Tuesday, July 25, 2017
Last Updated: Tuesday, August 15, 2017