College of Visual and Performing Arts Stories
Concerto/Aria Competition Winners Advance to Honors Concert
---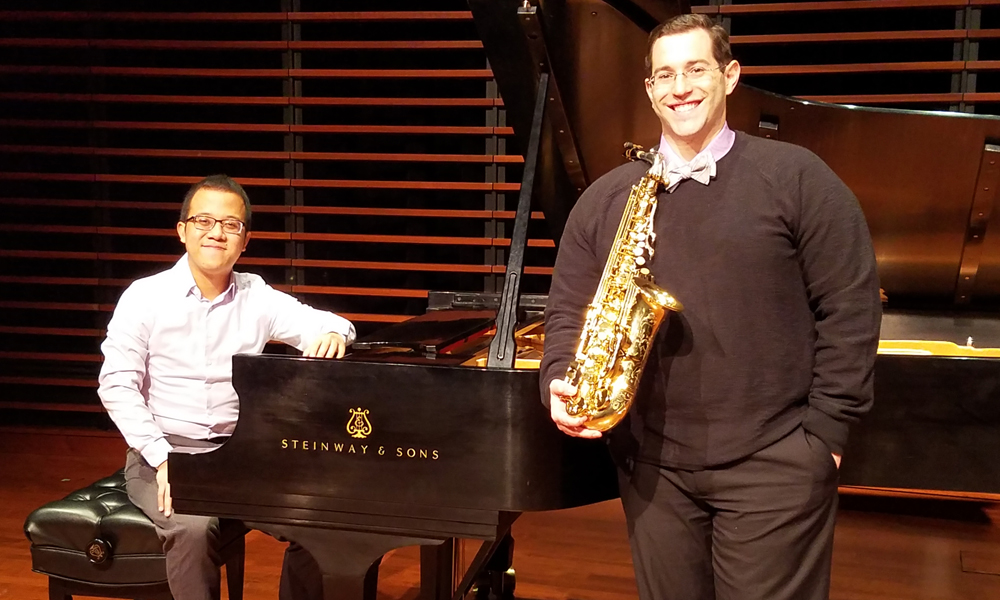 By Jen Kulju ('04M)
D.M.A student Jeremiah Padilla and master's student Anthony Cincotta won the 2019 Concerto/Aria Competition to earn coveted spots in the JMU Symphony Honors Concert on Sunday, April 14 @ 2 pm at the Forbes Center for the Performing Arts.
Padilla, a pianist studying with Gabriel Dobner, and Cincotta, an alto saxophonist studying with David Pope, both presented pieces in the competition considered staples for their instruments. Padilla played the first movement of the Tchaikovsky 1st Piano Concerto while Cincotta performed the Glazunov Concerto.
"I like playing the Tchaikovsky," shares Padilla. It is technically impressive and very romantic." Padilla says he learned to play the piece prior to coming to JMU four years ago, and then picked it up again this past fall when Professor Dobner encouraged him to compete in the Concerto/Aria Competition. Originally from the Philippines, Padilla earned his B.M. and M.M. in piano performance from The University of Memphis.
Cincotta, who hails from Westborough, Massachusetts, says he first learned the Glazunov Concerto as an undergraduate at the University of Massachusetts Amherst. "It's a beautiful, dramatic piece…something I've always loved." Cincotta currently teaches saxophone at Bridgewater College, but aspires to attain his D.M.A. and become a full-time saxophone professor. "Performing the Glazunov Concerto with an orchestra is excellent for my portfolio for the next stage."
Padilla also looks forward to playing his piece with an orchestra. "Once you have a chance to play with an orchestra, it's something you always want to do." Both Padilla and Cincotta were surprised by their wins, but excited. "It's going to be wonderful," exclaims Cincotta.
Also on the program for the Honors Concert are The Madison Singers, JMU Chorale, selected soloists and Symphony Orchestra performing selections from Joseph Hadyn's The Creation.
Published: Friday, February 1, 2019
Last Updated: Friday, February 1, 2019