College of Visual and Performing Arts Stories
Edgar Endress Exhibition Opens at Duke Hall Gallery of Fine Art
---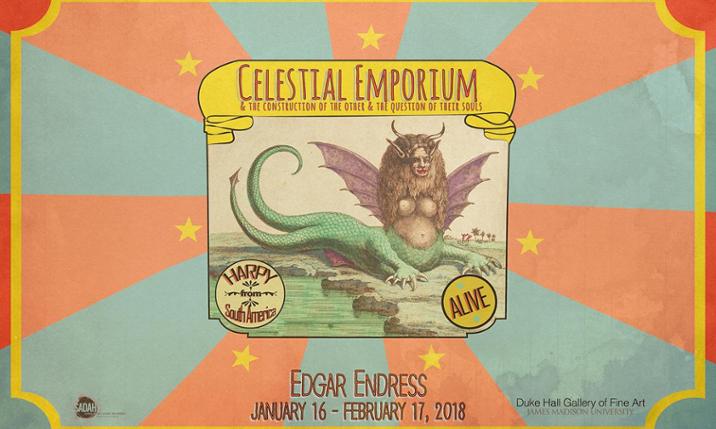 Edgar Endress: A Celestial Emporium
January 16-February 17 | First Fridays on February 2
Artist Reception: Monday, January 22, 2018, 5-7 p.m., Duke Hall Gallery
Artist Lecture: Wednesday, January 24, 2018, 12-1 p.m., Duke Hall - Room 2036
December 13, 2017 - The Duke Hall Gallery of Fine Art at James Madison University welcomes Chilean-born visual artist Edgar Endress to campus for a lecture and the reception of his exhibition titled A Celestial Emporium, which will be on display at Duke Hall Gallery from January 16-February 17, 2018.
Endress is a professor of new media and graduate program director at George Mason University's School of Art. He creates content- and context-specific work, ranging from large installations to audio and video presentations, that bridges the gap between art and social engagement. Featuring mixed media, video works and a performative piece, A Celestial Emporium focuses on social issues across the Americas, and more specifically, the Caribbean, Central and South America.
Endress is a founding member of Floating Lab Collective, a group of D.C.-based artists who orchestrate large projects to create a platform for rethinking the creative process, and is a 2017-2018 College of Visual and Performing Arts Cultural Connections Artist-in-Residence. He received his M.F.A. in video art from Syracuse University, and has been awarded numerous grants and fellowships, including from the Virginia Museum of Fine Arts and the Creative Capital Fund.
A growing list of programs related to the exhibition will become available over the next two months. Programming efforts will focus on bringing the Latin community of Harrisonburg more exposure, while discussing important issues of immigration, labor and human rights. For program updates, visit jmu.edu/dukehallgallery.
Duke Hall Gallery of Fine Art aims to present the highest level of fine art experiences, to create an active space for robust discourse of vital issues facing our society, and to be a visionary leader of fine arts for all.
Support for the 2017-2018 CVPA Cultural Connections Artist-in-Residence has been generously provided by JMU's College of Visual and Performing Arts, School of Art, Design and Art History, and the Office of Access and Inclusion.
GALLERY INFORMATION:                                                                            
Duke Hall Gallery of Fine Art     
Duke Hall - Room 1022                                      
820 South Main Street                                                                 
Harrisonburg, VA 22807                                                             
(540) 568-6918
jmu.edu/dukehallgallery
HOURS:
Tuesday-Saturday, 11 a.m.-5 p.m.; First Fridays until 8 p.m.
PARKING:
Parking is available at Mason Street Deck on JMU's campus during gallery events.
Published: Wednesday, January 3, 2018
Last Updated: Thursday, January 4, 2018