College of Visual and Performing Arts Stories
Fahimeh Vahdat Exhibition Opens at Duke Hall Gallery of Fine Art
---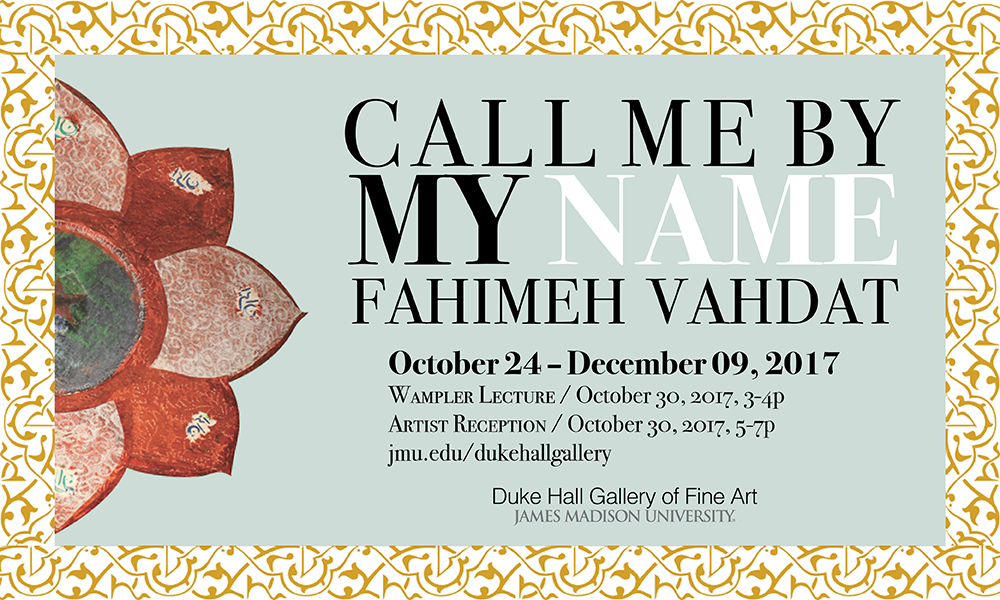 Fahimeh Vahdat - Call Me By My Name
October 24-December 9 | First Fridays on November 3 and December 1
Artist Reception: Monday, October 30, 2017, 5-7 p.m., Duke Hall Gallery
Artist Lecture: Tuesday, October 30, 2017, 3-4 p.m., Duke Hall - Room 2036
October 5, 2017 - The Duke Hall Gallery of Fine Art at James Madison University welcomes Iranian-American visual artist Fahimeh Vahdat to campus for a lecture and the reception of her exhibition titled Call Me By My Name, which will be on display at Duke Hall Gallery from October 24-December 9, 2017.
Vahdat fled her home country of Iran as the revolution erupted (1978-1979), emigrating to England and then to the United States in 1980. Her work, which includes paintings, drawings, prints, sculptures and performance art, highlights the universal refugee experience, human rights abuses (particularly again women and children in Iran and the Middle East), as well as issues of stereotypes, race, rituals, and beauty.
Call Me By My Name brings together a mixed media installation, Sacred Crossings (1995-present), and large-scale drawings that encompass the series, What Will Befall Her? (2003-2007). These groups of works both focus on injustices and violence, and encourage audiences to reflect on personal, national and global issues.
Vahdat's artwork engages her history of being an artist living in exile and studies this state of in-betweenness. Vahdat offers ideas that mend and induce an important sense of connectedness between the relationship of the East and the West. A variety of discussions with Middle Eastern Studies scholars, students and community members will take place throughout the exhibition. Programming will focus on the rich and diverse cultures, politics, and histories of the Middle East and North Africa (MENA) region. For updates, visit jmu.edu/dukehallgallery.
Duke Hall Gallery of Fine Art aims to present the highest level of fine art experiences, to create an active space for robust discourse of vital issues facing our society, and to be a visionary leader of fine arts for all.
GALLERY INFORMATION:                                                                                
Duke Hall Gallery of Fine Art
Duke Hall - Room 1022                                                          
820 South Main Street                                                                       
Harrisonburg, VA 22807                                                                  
(540) 568-6918
jmu.edu/dukehallgallery
HOURS:
Tuesday-Saturday, 11 am-5 pm; First Fridays until 8 pm
PARKING:
Parking is available at Mason Street Deck on JMU's campus during gallery events.               
Published: Thursday, October 5, 2017
Last Updated: Thursday, January 4, 2018