College of Visual and Performing Arts
Lisanby Scholar Series: Manoa Bell
---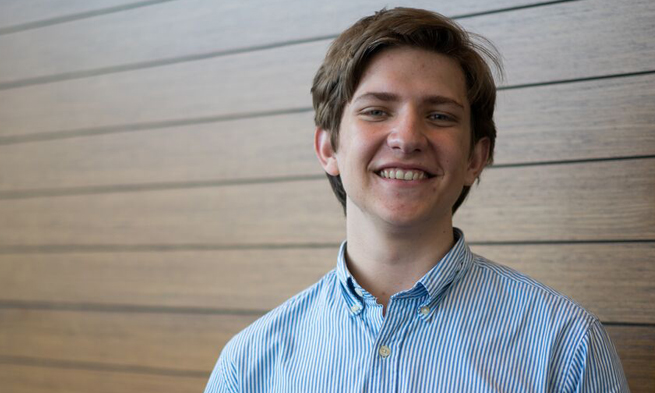 SUMMARY: Music industry major Manoa Bell is one of eight freshman arts students to have received a Lisanby Scholarship.
---
By Jen Kulju (M'04)
Manoa Bell's parents sensed he would be a musician before he was even born. At age four—and after five years on the waitlist, Bell started the "String Project" at the University of Texas' Butler School of Music, where he learned to play the cello. He continued on that instrument until he moved to Norfolk, Virginia, at age 10; he was musically so far ahead of his peers in the school that he was asked to pick up another instrument. "The logical choice was bass because it is similar to the cello. So, I started playing bass and fell in love with it."
After playing in four different community, professional and school-related orchestras in high school, Bell decided to attend JMU after receiving a Lisanby Scholarship. "JMU was of high interest to me, so the scholarship means a lot. It's such a gift, and I'm so thankful," shares Bell, who had the opportunity to meet Mrs. [Gladys] Lisanby at an October 2016 luncheon to honor the Lisanby Scholars. "It was nice to talk with Mrs. Lisanby. She's connected to Norfolk—where I'm from—so we knew some of the same people." Bell is now a freshman music industry major at James Madison, where he plays the double bass and performs with the JMU Symphony Orchestra.
Published: Thursday, March 9, 2017
Last Updated: Wednesday, January 2, 2019