College of Visual and Performing Arts
JMU School of Music to Host 2017 Southeast Horn Workshop
---
By Jen Kulju (M'04)
The James Madison University School of Music will host its first-ever Southeast Horn Workshop from Friday, March 3 through Sunday, March 5. This regional workshop of the International Horn Society is one of five that happens nationwide each year on a college campus; the Southeast is the largest with over 200 attendees pre-registered this year for a weekend that features performances and master classes by high-profile guest artists, workshops by university professors from across the region, and competitions for high school and college horn players.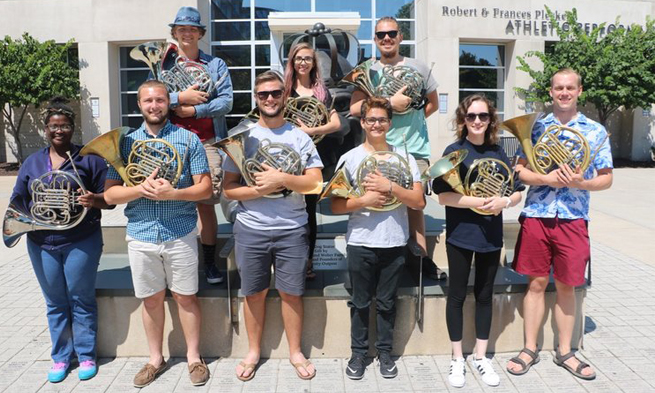 JMU horn professor Ian Zook is organizing the event with help from the JMU Office of Outreach & Engagement and his horn studio students (pictured above). According to Zook, the Workshop "is geared primarily toward college students, but is open to high school students, adult amateurs, enthusiasts and professionals."
The headlining artists include Abel Pereira and Robert Rearden, principal and second horn players in the National Symphony Orchestra (Washington, D.C.), as well as Sören Hermansson, Zook's former teacher at the University of Michigan.
Zook says Hermansson has lived in Sweden for the past 15 years, so "this is the first time anybody in the U.S. will have heard him since he moved, which is exciting. It's also the first time I'll be seeing him in 15 years, which is personally exciting."
Concerts for the featured artists will take place in Duke Hall Gallery. Tickets are $10 at the door. Participants may also register onsite for a single day or for the entire workshop. For a full schedule and further information, visit www.southeasthornworkshop.org.
Published: Monday, February 27, 2017
Last Updated: Monday, February 27, 2017