College of Visual and Performing Arts Stories
Dance Career Comes Full Circle for JMU Alum
---
By Jen Kulju (M'04)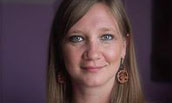 One could say that Jess Burgess ('07) graduating with a degree in dance from James Madison University is nothing short of a miracle. In 2004, she was in a car accident that could have claimed her life. "I went through the windshield, and I broke my face, my right arm, my right wrist, and my neck and spine. I am a robo woman. My entire face is titanium," declares Burgess.
It turns out that Burgess's life was saved and so was her dance career. According to Burgess, "there was considerable time in the hospital and in rehab," but dance faculty members Cynthia Thompson, Kate Trammell and Shane O'Hara told her she would graduate with a dance degree.
In 2013, nearly seven years after earning a double major in dance and English, Burgess returned to JMU to choreograph a trio for a performance celebrating the 30th anniversary of the Virginia Repertory Dance Company (VRDC). Burgess danced with the company during her junior and senior years at JMU. Artistic director O'Hara noted that the passion and drive Burgess had as a student was "still alive." "It was a gift for us to have her share it [that passion and drive] with our current company members. It is these connections that inspire me as an artist and educator."
It is Burgess' connection with Virginia Rep that got her started in Richmond, Virginia, as well. Burgess is the artistic director for Dogtown Dance Theatre and is the co-artistic director and founder of rva dance collective in our state's capital. She also teaches dance on a part-time basis.
Burgess enjoys opportunities to collaborate with JMU's "Repsters." "The department is continuing to grow and evolve, and the opportunities available to the dancers because of the Forbes space is incredible. Now, as the director of Dogtown, it is my responsibility to create an inviting space for all dance artists to call home. When VRDC comes to town, it's like my old dance home coming to my new dance home, and it brings my entire career full circle."
Published: Friday, January 27, 2017
Last Updated: Wednesday, January 2, 2019