College of Visual and Performing Arts
JMU Theatre Students Score at Kennedy Center Festival
---
By Jen Kulju (M'04)
Twenty-four theatre students and four faculty members from the James Madison University School of Theatre and Dance attended the Region II Kennedy Center American College Theatre Festival held January 3-7 at Montclair State University in Montclair, New Jersey. Three of the students were rated number one in their categories; at least one of the students earned an all-expenses paid trip to the KCACTF national festival in Washington, D.C. in April. Three other students received regional recognition, and three JMU actors and their partners advanced into the highly selective finals for the Irene Ryan acting scholarship.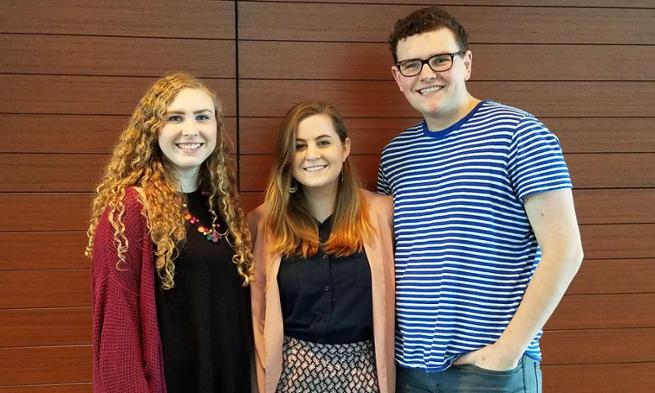 Senior Casey Martin Klein won the Musical Theatre Initiative competition and will advance to the national festival. Sophomore Sky Wilson won the O'Neill Critics Institute competition for critical response, junior Sierra Carlson won the dramaturgy competition, and junior Diego Salinas earned a Certificate of Merit in the 10-Minute Play competition. Wilson and Carlson (pictured above with Klein) are currently being considered for inclusion in the national festival, as is the work of Salinas.
Megan Holden won the regional award for scenic design, and Simon Lass won the regional award for technical direction. Jessica Bae earned a regional honorable mention award for sound design. Both Lass and Bae also received awards from the Stagecraft Institute of Las Vegas, which include week-long scholarships for workshops in Las Vegas. In addition, Chelsea Janke reached the finals in the stage management competition.
In the Irene Ryan acting pool, three JMU pairs reached the final round of 16 out of 240 pairs that began the event. Students who made the final round include Casey Martin Klein with partner Matt Merline, as well as Melissa Carter and Irene Hamilton, who each partnered with Chris Consaul.
The students were accompanied by faculty members Kate Arecchi, associate professor of musical theatre and musical theatre area coordinator; John Burgess, associate professor of theatre and interim director of the JMU School of Theatre and Dance; Ingrid DeSanctis, assistant professor of theatre, playwriting; and Wolf Sherrill, associate professor of theatre.
The KCACTF awards program provides student designers with feedback from professionals in the field and gives outstanding student designers national recognition in the categories of acting, musical theatre, playwriting, dramaturgy, critical response, scenic design, sound design, stage management, and technical direction. Approximately 1200 students and faculty attended the five-day event, which included colleges and universities from Virginia, Maryland, Pennsylvania, Delaware, New Jersey, New York, Ohio, West Virginia and Washington, D.C. 
Published: Friday, January 20, 2017
Last Updated: Wednesday, January 2, 2019