School of Art Design and Art History
Ben Shahn Art in Duke Hall Through April 5
---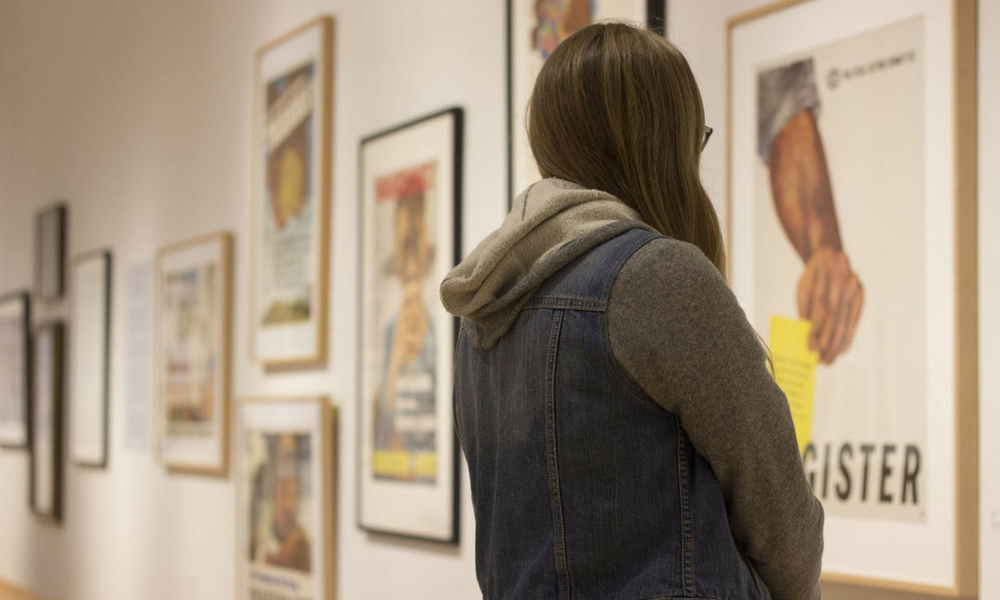 A swarm of people filed through the doors, anxious to view the powerful faces of Martin Luther King Jr. and mixed with those of struggling farmers and migrant workers. These radical images came together in the latest Duke Hall Gallery exhibit — Drawing on the Left: Ben Shahn and the Art of Human Rights.
On Monday, Feb. 20, guest curator and JMU art history professor Laura Katzman unveiled the masterpieces housed within the gallery that will remain in Duke Hall until April 5. Each piece originates from the 1930s-1960s by liberal activist and artist Ben Shahn, who's noted for capturing an effortless blend of art and culture. Several recent gifts of Shahn's work to the Madison Art Collection, stemming from the Ben Shahn estate in New Jersey and private art collector Michael Berg, inspired Katzman to create the gallery.
Katzman and her co-creators also managed to accumulate four paintings from the Smithsonian's Hirshhorn Museum and Sculpture Garden. These loans were the first in JMU history.  
"It's extremely difficult to borrow from the Smithsonian, as they have extremely high standards," Katzman said. "So we feel really lucky and really proud that we were approved, and this sets a precedent for future loans from other museums to the [Duke Hall] gallery."
Katzman particularly likes the themes behind Shahn's work and the historical events that inspired them, especially the way he displays various pressing issues from the 1930s to the 1960s.
His work spans several historic eras, including pieces centered around the New Deal, World War II, the Cold War, the atomic age and the Civil Rights movement.
Katzman's favorite aspects of Shahn's work in the gallery are his documentary photographs taken in New York City during the 1930s that depict the downtrodden workers and farmers who were most affected by the Great Depression and Dust Bowl.
"It imprinted experiences on his psyche of traveling throughout this country and seeing how the other half lives," Katzman said. "And also, it kind of encouraged him to draw on that subject for the rest of his life. It shaped his future career."
Katzman appreciates the opportunity to offer a beneficial learning experience to her art students, including her students' interactions with museum professionals. Her class has been able to witness many behind-the-scene tasks of developing a gallery, including how museum experts transport, restore, protect and display works of art. Katzman also uses the gallery as a sort of laboratory for her museum studies class, allowing students to explore possibilities for designing educational programs that correspond with the gallery's content.
Meagan Stuck, a senior art history major, served as Katzman's professional curatorial assistant, gaining helpful insight into the museum industry.
"It's been a really great experience and it's definitely one of my favorite parts of JMU — how hands-on you get to be," Stuck said. "I never dreamed that coming here and majoring in art history would allow me to go to an art collector's house, take the art off his wall with my hands, wrap it up and use gloves to frame the drawings that Ben Shahn drew himself. So that was really cool."
Jenna Hart, a junior anthropology major and teacher's assistant for an honors service class, has garnered appreciation for Shahn's art that fights for civil rights and social equality. Hart was particularly interested in one of his political cartoons, called "Sacco and Vanzetti," in which two men were killed after being tried and convicted for a crime they didn't commit due to anti-immigrant sentiments.
"He's taken really political stances on things and that shines through his art," Hart said. "The context of our course has a focus on the local community in regards to refugees, so it's really cool to see the different aspects of it [refugees] portrayed in art from 70 years ago."
Perhaps Katzman's greatest motivation for the display is her eagerness to provoke reflection on the various themes that Shahn depicts and relate them to current events.
"There are some really provocative parallels between some of the figures that Shahn depicted and some of the leaders in our society today,"  Katzman said.
Regardless of intent, Katzman hopes to make a positive and thought-provoking impact on the community, just as Shahn strived to do in his lifetime.
"He believed that artists could play a crucial role in revealing uncomfortable realities and looking intensely at inconvenient truths," Katzman said. "Shahn himself looked with a hard eye but a soft heart."
Published: Friday, March 24, 2017
Last Updated: Wednesday, January 2, 2019