School of Art Design and Art History
Source and Confluence
Exploring the Chesapeake Bay's Watershed
---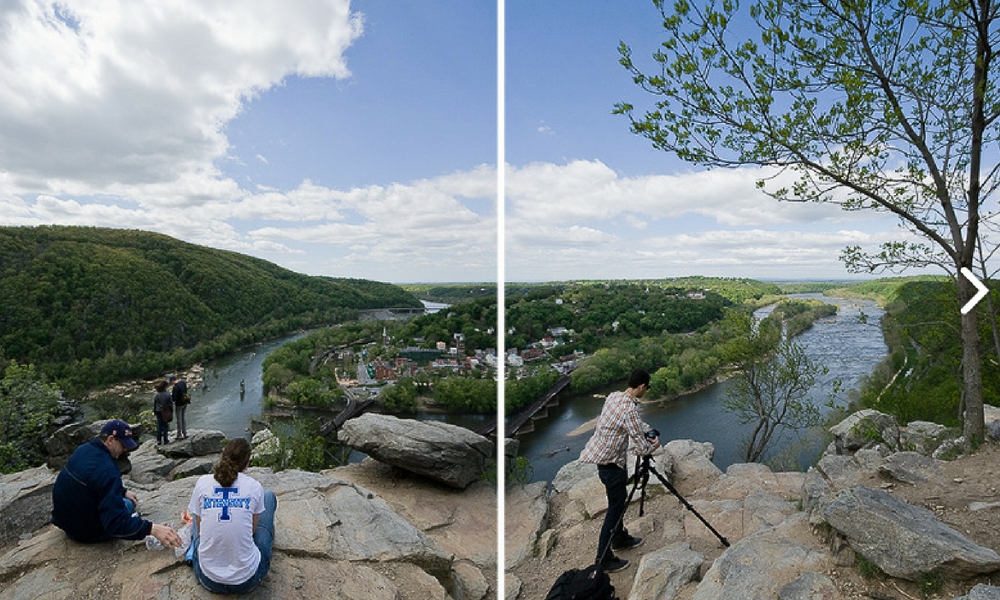 SUMMARY: New Image Gallery exhibit featuring panoramic photographs by Scott Jost.
---
Chesapeake Bay and its watershed extend over 64,000 miles in parts of Delaware, Maryland, New York, Pennsylvania, Virginia, West Virginia and the District of Columbia.
Scott Jost, Bridgewater College professor, created a comprehensive survey of the Chesapeake Bay seen in his New Image Gallery exhibit "Source and Confluence: Exploring the Chesapeake Bay's Watershed from Headwaters to Bay." The Sept 12th- Oct 17th exhibit features panoramic photographs of river and stream origins and confluences; upstream/ downstream images from individual rivers and sub-watersheds are juxtaposed to emphasize change as water makes its way from headwaters to the bay.
Through photography, Jost hopes to contribute to a greater understanding of the historical and contemporary Chesapeake Bay and its watershed, reflect on its prospects for the future, and contribute to an enhanced awareness of and appreciation for our local, regional and national waterways.
ARTIST'S LECTURE: Mon., Sept. 12th, 10:45AM - 1:15PM, MHAC 1011
GALLERY TALK: Mon., Sept. 12th, 4:30PM - 5PM, New Image Gallery
OPENING RECEPTION: Mon., Sept. 12th, 5 - 7PM, New Image Gallery

EXHIBIT DATES: Sept 12th - Oct 17th, New Image Gallery
_________________________________________________________________
INTERDISCIPLINARY ROUNDTABLE
WHEN: Oct 12th, 5PM, with reception following
WHERE: New Image Gallery
(131 Grace St., 2nd floor, entrance facing Main St.)
Photographer Scott Jost is Associate Professor of Art and Art Department Chair at Bridgewater College, with his M.F.A. from University of Minnesota, Minneapolis. His current project, Source and Confluence: Exploring the Chesapeake Bay Watershed, is a portrait of the Chesapeake Bay's entire 64,000 square mile watershed in panoramic photographs. The portion of the exhibition on display in New Image Gallery focuses on the watershed from Headwaters to Bay.
Panelists:
Dr. Daniel Downey is Professor of Analytical, Nuclear and Environmental Chemistry with his Ph. D. from Louisiana State University. His main research is in the area of environmental analytical chemistry and he has worked with his students for over 3 decades on improving water quality in the watershed area through both lab and field work. 
Dr. David Ehrenpreis is Professor of Art History with his PhD. in Art History from Boston University.  He is the founding Director of the Institute for Visual Studies that is described as "a multidisciplinary center for the scholarly, scientific and creative inquiry into the nature and workings of images."
Dr. Carole Nash is Associate Professor of Integrated Science and Technology with her Ph.D. in Anthropology from the Catholic University of America.  She is Director of Archaeological Assessment for Shenandoah National Park.  With over 35 years of experience in the archaeology of the Middle Atlantic region, she emphasizes long-term environmental and cultural change in her teaching and research.
Refreshments provided.
Parking: 
All visitors may park in C6 and C14 lots adjacent to the gallery as well as lots R13 and R14. No parking permits required; follow posted restrictions. 
Published: Wednesday, August 31, 2016
Last Updated: Thursday, January 4, 2018