School of Art Design and Art History
The World's Her Oyster
Evelyn Tickle Wins CBIC Social Good Award
---
SUMMARY: Architectural Design Area Head, Evelyn Tickle, works with concrete restoration products to help restore our waters and mitigate climate change.
---
"The world is your oyster" is a quote from William Shakespeare's The Merry Wives of Windsor:
Falstaff: I will not lend thee a penny.
Pistol: Why then the world's mine oyster, Which I with sword will open.
Falstaff: Not a penny.
The orginial phrase has a violent implication, with Pistol stating he will use violent methods (a sword) to steal his fortune (the pearl one can find within an oyster.)  Today, the phrase is used without its original violent connotaion, simply meaning the world is ours to enjoy.
But at what price?
The National Oceanic and Atmospheric Administration (NOAA) has stated that the oyster population in Chesapeake Bay is less than 1% of what it once was due to decades of reef damage. Habitat destruction, over-harvesting, and parasitic diseases have devastated the remaining oyster populations. 
James Madison University Architectural Design Head, Evelyn Tickle, is working hard to restore native oyster population levels via her business Grow Oyster Reefs, LLC. 
In 2008, Evelyn became inspired by biomimicry, and began a solo study of the concrete-like secretions of oyster reefs. Her experiments resulted in her proprietary CaC02 Concrete, a shell-less formulation chemically similar to oyster shells that she then used to invent a small tiles and cones that imitate the substrate of reefs. Concrete Reef Restoration Tiles (CORRT) can be used to start new oyster reefs or fill in gaps in deteriorating ones, for production as well as for scientific research. Evelyn produces these tiles, disks and CaCo3Concrete to be used in oyster farming, scientific research and oyster reef restoration work worldwide.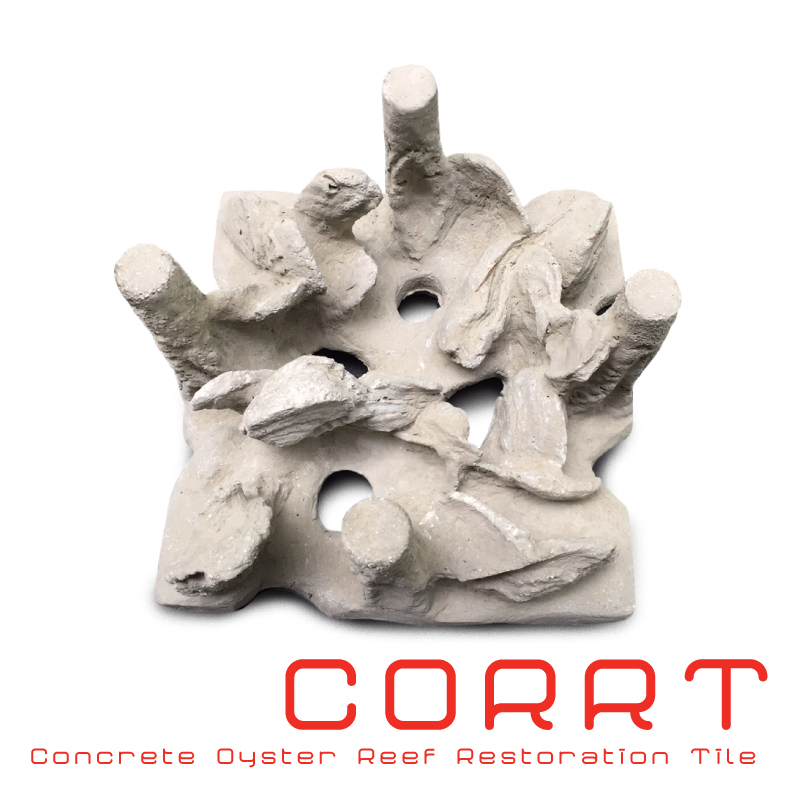 On May 26, the Charlottesville Business Innovation Council (CBIC) honored the area's most innovative and inspirational entrepreneurs, companies, teachers and students at its sold-out 18th annual awards gala.  By public vote amongst the 400 event attendees, Evelyn Tickle was awarded the Social Good Award after being nominated this past spring.  She is excited about working with local school systems to get reefs started in the Chesapeake Bay.
The market supporting the current oyster reef restoration effort is growing rapidly due to the invaluable role oysters play in mitigating climate change. As filter feeders, oysters improve water quality while they filter their food from the water, greatly benefiting the ecosystem.
For more information, please visit The Daily Progress CBIC Gallery , CBS19 News, and Grow Oyster Reefs, LLC.
Published: Tuesday, May 31, 2016
Last Updated: Thursday, January 4, 2018