School of Art Design and Art History
First Friday Art Opening
Post-Conflict Recovery Awareness Art Exhibition
---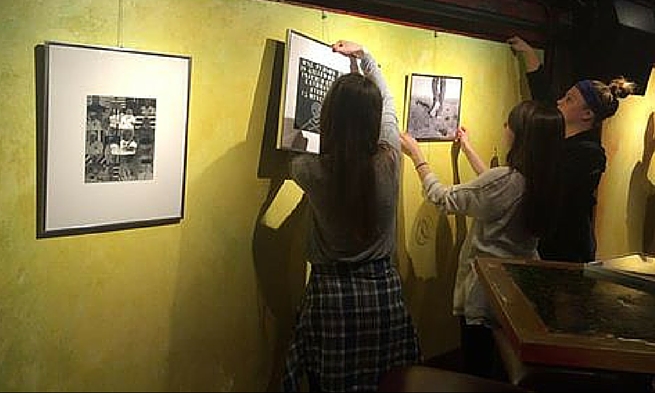 Center for International Stabilization and Recovery (CISR) Post-Conflict Recovery Week 2016
By students enrolled in
JMU School of Art, Design and Art History
ART 200, ART 260 and ART 280
This exhibition features artwork made in honor of JMU's Center for International Stabilization and Recovery (CISR)'s Post-Conflict Recovery Week, April 1 – 6, 2016. Students enrolled in ART 200 Art In General Culture and ART 260 Introductory Black & White Photography classes have created the two-dimensional work for this space.

A reception for an additional part of this exhibition by students enrolled in ART 280 Sculpture will take place April 6, 1 - 3pm in the Duke Hall critique space, first floor Grace Street entrance, on JMU campus.
Students were inspired by information about post-conflict issues from class interactions with CISR Director Ken Rutherford and others. Additional information and imagery came from CISR publications such as The Journal of Conventional Weapons Destruction, a professional trade journal for the humanitarian mine action and explosive remnants of war (ERW) community, and the longest continuous source of information on ERW and Mine Action in the world. It is our hope that we have used our art to convey complex post-conflict issues in a creative way that will raise awareness about this major humanitarian crisis and about CISR.
CISR envisions a world where people can build peaceful and prosperous futures free from the repercussions and of conflict and disaster.
CISR improves lives and communities.
Published: Monday, April 4, 2016
Last Updated: Thursday, January 4, 2018