News
2 SADAH students attend conference at Stanford University
---
The College of Visual and Performing Arts sponsored two SADAH students, Chloe Mapes, Interior Architecture and Industrial Design, and Sarah Rozman, Interior Architecture, to attend the a2ru Emerging Creatives Student Conference at Stanford
University this past weekend.

The a2ru Emerging Creatives Student Conference is for students of all disciplines who are interested in crossing creative boundaries and actualizing collaborative projects. As a convocation of students from a2ru partner universities across the country, the conference focused on providing the inspiration and tools needed to help this group of emerging creatives develop, execute, and sustain new interdisciplinary collaborative endeavors.

What is the Alliance for the Arts in Research Universities (a2ru)?

"Arts and design practices are integral to 21st-century research universities, which must define and lead change in an increasingly complex global society. The Alliance for the Arts in Research Universities (a2ru) generates knowledge, advocacy, and resources that enable universities to integrate artists and arts practices, fostering highly adaptive creators and thinkers."

James Madison University is a member of a2ru alongside LSU, Washington University St. Louis, Stanford, Ohio State, and Dartmouth, just to name a few.

To learn more about a2ru and the conference visit http://a2ru.org/events/a2ru-emerging-creatives-student-conference/

Photo: In the foreground is Chloe Mapes standing with JMU Engineering student, Fletcher Grow.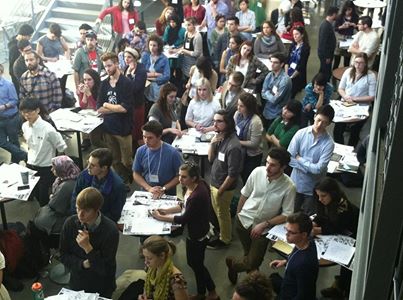 Published: Friday, February 7, 2014
Last Updated: Thursday, January 4, 2018