Advancing Madison
---

Welcome to Advancing Madison, the periodic update from the division of Advancement of James Madison University.

In this issue …

Valley Scholars contributions total $475,000
We have been successful in fundraising for Valley Scholars, one of the signature programs of the Madison Plan. To date, six donors—including the Alger Family—have stepped forward to make generous gifts totaling $475,000.

Along with the Algers, Dan ('79, '86M) and Alyce ('79) Nardi, the Struthers Family, the Daikin Corp., the duPont Foundation and an anonymous local family are supporting this life-changing program.

If you'll recall, Valley Scholars is a program for economically disadvantaged and academically motivated eighth graders from seven local school districts. Right now the first cohort of 35 is participating in JMU college-bound outreach experiences provided by our academic, athletics and student affairs programs. The participation of these students will continue throughout high school and culminate with a JMU scholarship of full tuition and fees if they are admitted to JMU.

This program is a personal priority of President Alger, who sees it as both an investment in our local youth and an investment in the health and prosperity of the Shenandoah Valley. JMU has ensured a commitment to fund our first three cohorts. After that, the addition of more cohorts and schools depends on additional funding.

As Valley Scholars Director Shaun Mooney is fond of saying, "We want these kids to think about 'when' they go to college—not 'if.'"

The deans deserve thanks for their commitment to the program, as do our faculty and students who are helping to provide these academic and outreach experiences for our first group of eighth-graders. Our second cohort will be chosen this spring.

If you know our donors, please thank them for their investment in the future of our children, the Shenandoah Valley and JMU.

First Madison Trust event garners $161,000 for faculty and staff innovations
There were no strings attached when some of our faculty members came face to face with potential investors last November to pitch some exciting innovations for funding. With the inaugural event of the Madison Trust, we all took a chance at something brand new, and we were successful. Our professors pitched some life-improving ideas.
The 20 donors who attended were so impressed with the faculty expertise and innovation they witnessed that they have funded more than $161,000 across 12 proposals.
Two of our donors were instrumental in guiding this effort into being: Board of Visitors members Don Rainey ('82) and Leslie Gilliam ('82).
With this success, we look forward to holding our next Madison Trust event in November and are considering the possibility of making the event twice yearly. Our hope is that the Madison Trust can become a regular source of revenue for worthy faculty projects in this time of tightened budgetary constraints in higher education.  
You will be able to read and see more in an upcoming issue of the Madison digital app and the spring print magazine.

Record applications for early admission and national attention
JMU trended on Twitter (one of the top ten topics of national conversation on the popular social media platform) when early action decisions were announced Jan. 8. A record 10,062 students applied to Madison during the early admit cycle, and their excitement bubbled over in social media. This national recognition is most exciting considering lots of other prominent universities informed their early action admits around the same time, but did not rise to trending levels. Our current students deserve a lot of credit because of their wildly enthusiastic participation in welcoming the incoming class on Twitter.
A funding model to expand private support for JMU: the gift reinvestment percentage
How philanthropic organizations approach raising funds depends on the profile of their potential donors. For example, the average age of JMU alumni is relatively young compared to other universities. Since most successful individuals accumulate more wealth as they age and tend to give their largest legacy gifts later in life, our division of Advancement must cultivate more donors than universities with older average alumni to reach comparable fundraising goals. So the current reach of Advancement needs to grow.
Investing in Advancement has historically meant further burdening the Education and General budget. But a gift reinvestment program, where a portion of gifts is reinvested in the overall fundraising operation, represents an alternative way of growing new revenue streams for the university while minimizing the pull on E&G dollars needed to fund faculty positions and other key aspects central to the student experience.
Counsel from consultants and our data on alumni support this approach. Every year there are an increasing number of JMU alumni moving up into positions where they could make significant personal contributions, but there are far more than we can currently engage. Consequently, we need more advancement staff building more relationships with more potential donors to be successful on the philanthropic front.
So, rather than compete with the rest of the university requesting new positions, we will now increase the reach of Advancement by taking an approach that's been in place for years at most other successful public universities including UVA and Virginia Tech. Seven percent of non-endowment gifts will now be reinvested into growing the reach of the division of Advancement. By growing the university's capacity to raise private support out of dollars given, we ultimately will grow private support for JMU overall while reducing further demands on the central budget.
Information regarding the gift reinvestment program has been on the university's Give webpage since it was implemented in July 2014. You can read more here.
Advancement pilots constituent engagement initiative
Another way Advancement is working to increase its capacity to engage more donors is a new constituent engagement initiative. Our hope for this program is to:
Collaborate with and support our academic partners in advancement initiatives
Expand the reach and diversity of advancement and engagement opportunities for our alumni
We received a number of creative and dynamic proposals that will be implemented throughout the spring 2015 semester. Because of the number of proposals and common themes that surfaced, we are additionally offering a series of workshops focused on Advancement, specifically alumni engagement:
Developing a communication strategy
Planning and managing memorable alumni events
Creating effective mentoring and networking programs
Boards, councils and volunteers: now what?
These workshops are open to any interested faculty and staff. For a detailed description of each workshop, please visit the Advancement Resources website.
Our hope is to continue to continue these workshops and expand the Engagement Initiative program next academic year. Please contact Carrie Combs or Ashley Privott with any questions.
Wynes ('52) gift benefits history department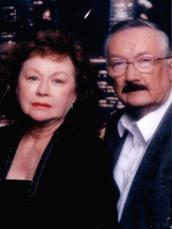 Last year, a dear friend of Madison, the late Dr. Charles Wynes ('52), remembered the history department and Madison Forever generously in his estate plans.
In a 1989 letter, Dr. Wynes expressed his appreciation for what the university had provided him. "I don't mind telling you, as I have told others, that James Madison University, freed me as a tenant farmer's son, to be the first in my family, ever, to get a college education." Wynes said, "I owe JMU a great deal, and I am ever mindful of it."
Dr. Wynes is a prime example of the enduring impact our faculty has on our students. He went on to become an accomplished faculty member, administrator and book author in his own right at the University of Georgia.
You can learn more about Dr. and Mrs. Wynes and other donors who have made significant university gifts on the JMU Foundation website.

Introducing the new Madison magazine app
Alumni tell us in periodic surveys that their number one preferred mode for staying connected to their alma mater is to read Madison magazine. So it's important that we keep this vital publication available and widely distributed. To keep up with changes in reader preferences, we are introducing a digital version of Madison available for free in the Apple and Google Play app stores. Initially, this new version of Madison will be available for tablets only. But we will add other devices as the market evolves. A beta version of the app is now available for download on the Madison magazine website.
Madison Giving Campaign wraps up March 6
We are combining students and employees this year in our Madison Giving Campaign, which emphasizes participation rather than a dollar goal. So each and every gift—of any size—is important in our efforts to reach 2,500 participants.
Our campaign consultants, Marts and Lundy, tell us this combined approach is a good one: "The marriage of student and employee giving campaigns is an excellent model that should be copied by other institutions around the country."
The campaign wraps up March 6, so we encourage you to join our 1,850 participating employees and students. You can make a gift online, through payroll deduction or by phone at (800) 296-6162.
Participants will be invited to an appreciation breakfast on April 21.

March 2 deadline for Maher Whitten Scholarship
The College of Arts and Letters has been deeply involved with the family and friends of the late alumnus Whitten Maher ('10) to endow a scholarship in his name. A writer and designer dedicated to civic causes, Maher worked for Demos: Ideas and Action, a non-profit public policy organization in Manhattan before his premature death. At JMU, Maher was a double major in political science and writing, rhetoric and technical communication, as well as design editor and senior writer/columnist for The Breeze.
"Whitten had a brilliant mind and a beautiful way with words. I'm so glad that his memory will live on through this scholarship," is one of the sentiments on a WRTC web page that commemorates Maher and his contributions.
Traci Zimmerman, Director of WRTC, asks the faculty to encourage students across the university to apply for this annual scholarship. The application deadline is March 2. Find more information here.

Presidential Vision Tour spreads The Madison Plan message
Quickly after taking office, President Alger conducted the "Why Madison? Presidential Listening Tour" where he offered everyone in the Madison community an opportunity to express why they believed JMU was unique and superior. All of the feedback gathered during the tour was added to the strategic planning process conducted by the Madison Future Commission, which produced the university's 2014-2020 strategic plan.
Now the president is back on the road to describe The Madison Plan with the Presidential Vision Tour. So far, the tour has made four stops in Washington, DC, New York City, Northern Virginia and Richmond. Attendance has been strong and response to The Madison Plan is positive. Read more here.

I look forward to telling you about more exciting developments, and wish you an excellent semester.
Nick Langridge
Vice President of University Advancement
Published: Sunday, August 30, 2015
Last Updated: Tuesday, May 29, 2018