News
Advancing Madison
---

Greetings,

This spring semester has been a busy and exciting one with a full slate of advancement activities. In addition, I'm pleased to celebrate and thank our deans, faculty and staff for partnering with us in University Advancement on so many fronts to engage our alumni and donors in efforts that ultimately will increase giving to JMU. It is always our goal to support the mission of this great university. 

In this issue …
Transformational gift for SHSRM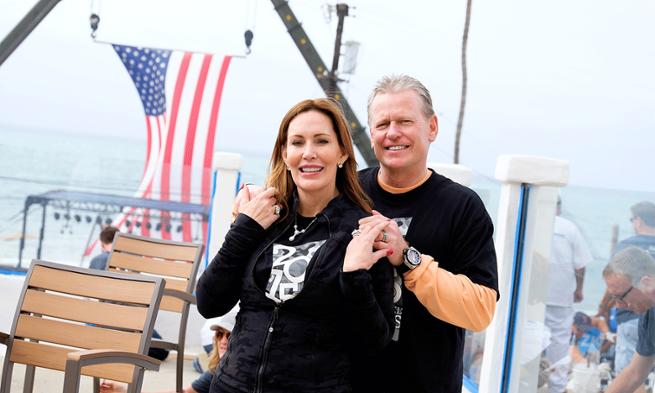 You have probably heard the wonderful news that alumnus and California Pizza Kitchen CEO G.J. ('84) and Heather Hart have made a transformational gift of more than $3 million to name the School of Hospitality, Sport and Recreation Management in the College of Business. We made the announcement at our Annual Stewardship Luncheon in March. The Harts appeared on video along with 10 JMU students and school director, Michael O'Fallon, from the CPK Annual Operators Conference in California. It is remarkable how closely aligned the Harts' values are with those of the JMU community. G.J. and Heather have imbued CPK with a commitment to service and ethical leadership and want to ensure those values are supported here. In fact, this is the seventh year in a row in which JMU students have participated in the CPK Annual Operators Conference, including the day of service.

We will celebrate the naming of the school along with the Harts when they visit this fall, and you will hear more as our plans take shape. You can learn more about the Harts and their gift on the JMU Foundation website. Our development officers are working with our prospective donors to bring many more of these kinds of transformational gifts to JMU. We will bring you a more in-depth review of our major gifts after the end of the fiscal year. 
Demonstrating the value of faculty support
This past March, more than 400 donors, student scholarship recipients, faculty and university leaders came together at our Annual Stewardship Luncheon to demonstrate the profound impact donors make on the university with their gifts. We focused this year on the value of faculty support and how one gift acts as a catalyst to set off a chain reaction of impact—well beyond what a donor might first have realized.

I want to thank CISE Dean Robert Kolvoord, ISAT Professor Cindy Klevickis, donors Avrum and Lauren Elmakis ('01), and students Deserae Barney ('14, '15M) and Jenae Bailey ('15) for helping us tell this important story. Jenae, who spoke about her Madison Experience and the impact Dr. Klevickis had on her life, told our donors, "That' s how much one JMU professor matters. … We want to thank you for understanding how important a JMU education is and how it changes lives." 
Our donors say these presentations are heartwarming and educational. In advancement, these stories also help us to make the case for faculty, scholarship and program support to new donors. You can watch the video of the full program, including the announcement of the Harts' gift, on the Donor Relations website. Additionally, I want to thank our deans for hosting post-luncheon programs for our donors to attend and learn more about the activities in their colleges. Our donors tell us these are very informative and help them feel engaged and involved.
Women rally for Madison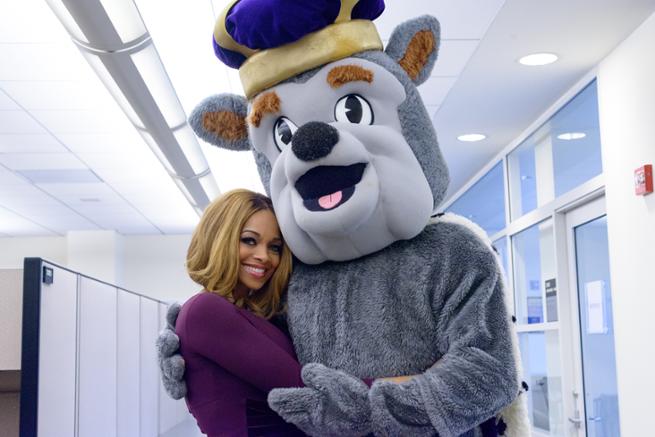 Right after the Stewardship Luncheon, former Ms. Madison, Miss Virginia and Miss USA runner-up, Pat Southall Smith ('92), served as the keynote speaker for the first public Women for Madison event. The rally drew students, professors, alumni, parents, staff and donors interested in becoming more deeply involved in the life of JMU. Smith challenged the women in attendance to help provide another woman an opportunity to find her purpose. "Let's pass it on and grow the body of women from JMU who make a difference in this world," she said. "Let's all be Women for Madison!"

The rally was organized by the Women for Madison Executive Advisory Council in an effort to channel women's growing professional influence and financial leadership. Speakers encouraged women to extend the transformational impact of their own Madison Experience by making an impact on future students through volunteering and philanthropy.

I look forward to seeing how efforts of this dynamic force make an impact on JMU. You can learn more at the Women for Madison website.
Increasing alumni donors
Our annual giving staff is finishing out the semester focused on increasing the total number of annual alumni donors to upwards of 8,850. We will continue to reach out to our alumni to inspire and encourage giving to JMU in order to support our faculty, staff and students here at Madison.
I want to send a special thank you to all of the faculty and staff members who have made their annual gift this year. It's especially gratifying to see that our "Double Dukes" are leading the way in helping us to achieve and surpass our alumni donor goal. I hope you will bring your influence to bear in this effort, too, by reaching out to your personal network of JMU alumni and encouraging them to make their gift before June 30, 2015.
Chapter Challenge in full swing
Helping us to increase our number of alumni donors is our Chapter Challenge. The effort is in full swing as our 24 regional alumni chapters compete against one another and challenge themselves to better their alumni participation percentage from last year. The Challenge is meant to educate alumni on the importance of giving and give chapter leaders ownership in helping JMU increase our alumni donor participation number. This program is a partnership between Annual Giving and Alumni Relations offices.
goMad for the Madison Experience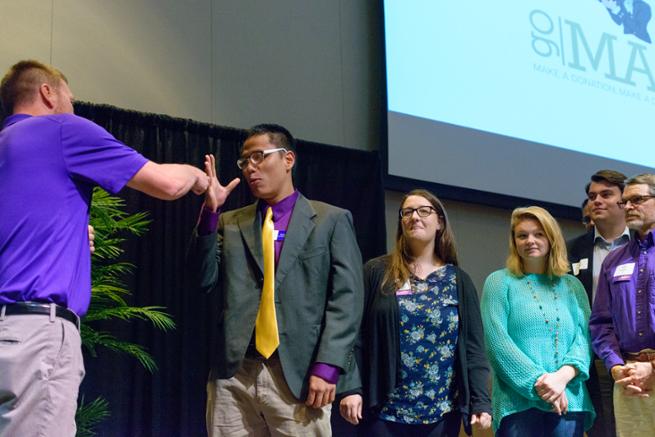 In 2015 we joined together to goMad for Madison Giving. We all know that the experience at JMU is unlike any other. We're part of something unique and special. We all work together to forge that Madison Experience. We do that through our commitment to our work and increasingly by giving back financially.
This year, for the first time, JMU's Employee and Student giving campaigns were united into the Madison Giving Campaign, an unprecedented effort to collectively demonstrate the passion, energy and commitment to creating a culture of philanthropy on our campus. We celebrated our success at the Employee Donor Breakfast on April 21. Nearly 2,500 faculty, staff and students contributed more than $700,000. Faculty and staff participation was up by more than 100 donors and by the end of the fiscal year close to 1300 employees will have made a gift in support of JMU. More students have made gifts this year than during any other student campaign, matching by a nearly identical number employee contributions. Each of the students became members of the Student Alumni Association with their donations of $25 or more.
I urge you to take a moment to watch these terrific goMad videos.
https://www.youtube.com/watch?v=ugY3boQ5EtQ&feature=youtu.be
https://www.youtube.com/watch?v=1hdm53XkLF4&feature=youtu.be
Valley Scholars Golf Tournament
As you know, one of JMU's major initiatives is the Valley Scholars program. Our first cohort of 35 students just completed year one of their experience, and our second cohort will soon be selected. Our local youth deserve our support, and this program is making great strides to offer experiences and opportunities that give hope and assistance. To raise funds for this important program, JMU is partnering with Forbes Development to sponsor the Valley Scholars Golf Classic on May 30 at Packsaddle Ridge Golf Club. This charity golf event will feature a Captain's Choice format with teams of four golfers competing in two flights, teeing off at 9 a.m. or 2 p.m.

Early bird registration is $100 per golfer by May 1. Sponsorship opportunities are available. Click here to register. If you or someone you know is interested in being a sponsor, please contact Cannie Campbell.
Upcoming Madison and Madison app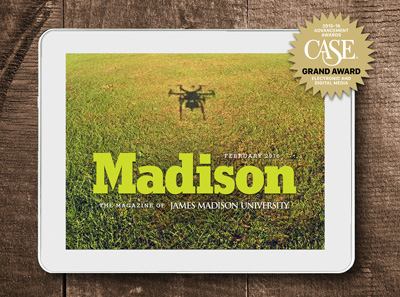 The next issue of Madison, with a focus on entrepreneurship, is due out in May. I think you'll be interested to see entrepreneurship explored from so many different perspectives. You'll also be able to read more in depth about some of the news I've shared here in this newsletter, including the gift from the Harts, the Stewardship Luncheon, Madison Trust, Valley Scholars and news about alumni achievements. Another issue of our Madison app is due out after the print magazine with a host of interesting stories. Go to the App Store or Android store to download the Madison app.
Alumni return for department events
Spring alumni days are in full bloom around campus, and I'm always heartened to see so many of our alumni back on campus. Throughout the month of April, numerous departments and colleges across campus hosted successful events welcoming their alumni to engage with their students. I thank our faculty for seeing the value of continued alumni engagement and for their commitment to creating a high-quality experience for them.

As part of Advancement's pilot a constituent engagement initiative, we were fortunate enough to partner with several departments across campus, including Writing, Rhetoric and Technical Communication, CAL's Liberal Arts Alumni Council, Justice Studies, and the School of Communications Annual Careers Conference. Eric Fife, director of Communication Studies, describes SCOM's experience partnering with Advancement: "We've been doing versions of these alumni events for about 10 years, and I would say that our latest alumni event was the most "complete" event we've ever had. Sometimes we threw together these events at the last minute, but this year we started with a superb email list and used the support provided by Advancement and the Alumni Office to establish a formal, early registration system." 
Hosting alumni and inviting them back to campus is a worthwhile engagement opportunity but can be demanding on department's staff and resources, and we are here to help. If you'd like support with your next alumni event, please visit the Advancement Resources website or contact Carrie Combs, director of College Engagement.
The Big Event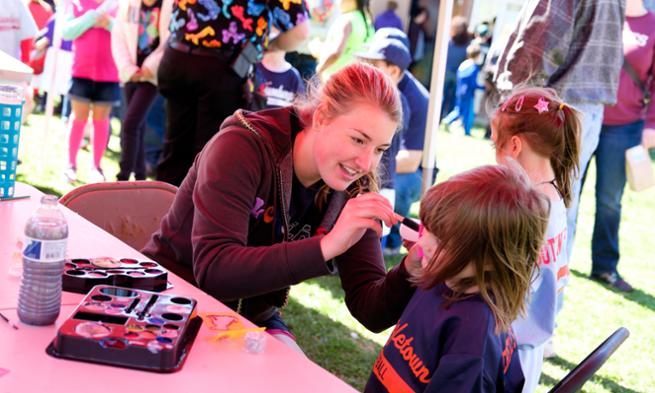 In early April, more than 300 alumni participated in JMU's day of community service—better known as the Big Event. I find it affirming that so many of our alumni continue the ethos of service that they learned here on campus. I encourage you to look at the photos and comments about the Big Event.
Bluestone Reunions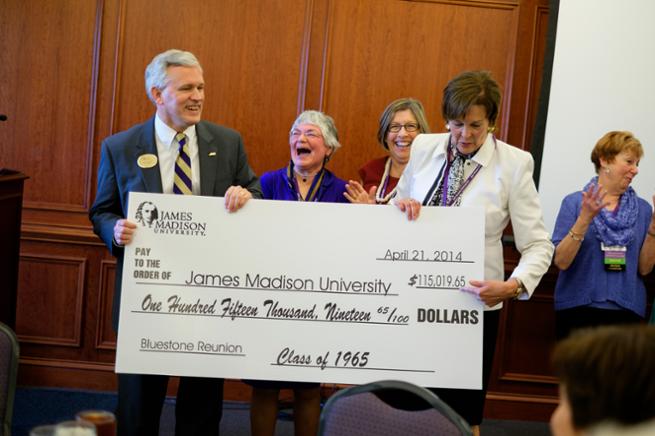 Last weekend we hosted alumni from the Madison College era who returned for the Alumni Association's Bluestone Reunions. This year, we celebrated the classes of 1965, 1960, 1955, 1950, 1945 and 1940. Alumni are always happy to meet our students and campus leaders. This year, musical theatre major and honors student, Caitlin McAvoy ('15), spoke about her experience as a student in the Forbes Center, where she is performing in this weekend's the Cherry Orchard. She also told of traveling to Romania as a Hillcrest Scholarship recipient to introduce dance as therapy for girls from abusive homes. She said JMU changed the course of her life, something that our alumni audience could relate to from their own college days. The reunion weekend was filled with campus tours, receptions and opportunities for alumni to reconnect with their Madison Experience. Alumni who graduated 50 or more years ago were given a medallion and inducted into the Bluestone Society, while the Class of 1965 continued the tradition of making a 50th reunion gift by presenting a check of $115,019.
Senior Dinner and Candle Lighting Ceremony
With Commencement right around the corner, the JMU Alumni Association is preparing to welcome the class of 2015 as its newest members. We position a week as a segue into a lifelong Madison Experience that will continually engage these new alumni in the life of JMU. Leading up to Commencement, the Alumni Association celebrates seniors in a memorable event with the Senior Dinner and Candle Lighting Ceremony. The Candle Lighting Ceremony is a long-standing tradition, bridging undergraduates to their next chapter in life as alumni of JMU. For more information about this event, visit the JMU Alumni website.
Parents Council Meeting
The Parents Council meeting was Friday and Saturday, April 17-18. President Alger gave a university update, followed by a presentation on the Campus Master Plan by our senior VP for administration and finance, Charlie King. Sam and Laurie Shellenberger, chairs of the Parents Council, presented a check on behalf of the Parents Council to President Alger on Saturday morning in the amount of $278,943.28. Our parents are among our most ardent supporters. Not only do they pay tuition, but many feel so strongly about the Madison Experience their students have received that they make annual and major gifts as well. That's a resounding show of support for the experience our faculty and staff dedicate themselves to create and sustain. 
Important Madison Trust deadline coming up
Our initial Madison Trust event last fall was so successful and meaningful to our participants, that we are pleased to offer this opportunity again to our faculty, staff and donors. Much like the popular television program "Shark Tank," The Madison Trust brings our JMU innovators face to face with potential investors. Our faculty and staff pitch their ideas, and interested Madison Trust investors and donors help move innovation forward with their investment. In the initial offering during the 2014-2015 academic year, we received 55 proposals from faculty and staff. Of that number, 12 groups of faculty and staff presented to 20 Principal Investors and donors, resulting in 11 projects being supported with just under $170,000 from our donors. We're happy to extend our next invitation for Madison Trust proposals for the Fall 2015 semester. A critical deadline occurs next month! See more on the Madison Trust website.
Dates and deadlines:
May 18: Deadline for concept or idea (not entire proposal) to be approved by provost or vice president, coordinating with deans
May 18-Aug. 21: Provost/VPs share proposals with deans, others for reviewing applications.
Aug. 21: Deadline for submitting full proposals for fall 2015 consideration (not accepted without prior approval of the provost or vice president)
Aug. 21-Oct. 1: Review of proposals by donors and JMU administration
Oct. 13: Notifications to faculty/staff on the finalists chosen for presentations
Oct. 27 and 28: Innovation Pitch Training offered for the final 12 faculty/staff chosen; led by Brian Charette.  9-11 a.m. (choice of either day)
Friday, Nov. 13: Madison Trust presentations by finalists
Dec. 15:  Funding Decisions Finalized and Faculty/Staff presenters notified
Jan. 1, 2016: Begin awarding grants
On behalf of all your colleagues in University Advancement, we appreciate your partnership and the chance to work more closely together to enhance relationships with alumni and all our constituents in support of the university's mission. We look forward to sharing more exciting developments from the advancement realm, and invite you to share your own personal success stories with us. Relationships are everybody's business. Let's Advance Madison together.
Nick Langridge
Vice President of University Advancement
Published: Wednesday, April 1, 2015
Last Updated: Tuesday, April 17, 2018