News
Healer
Melissa Cummings ('11)
---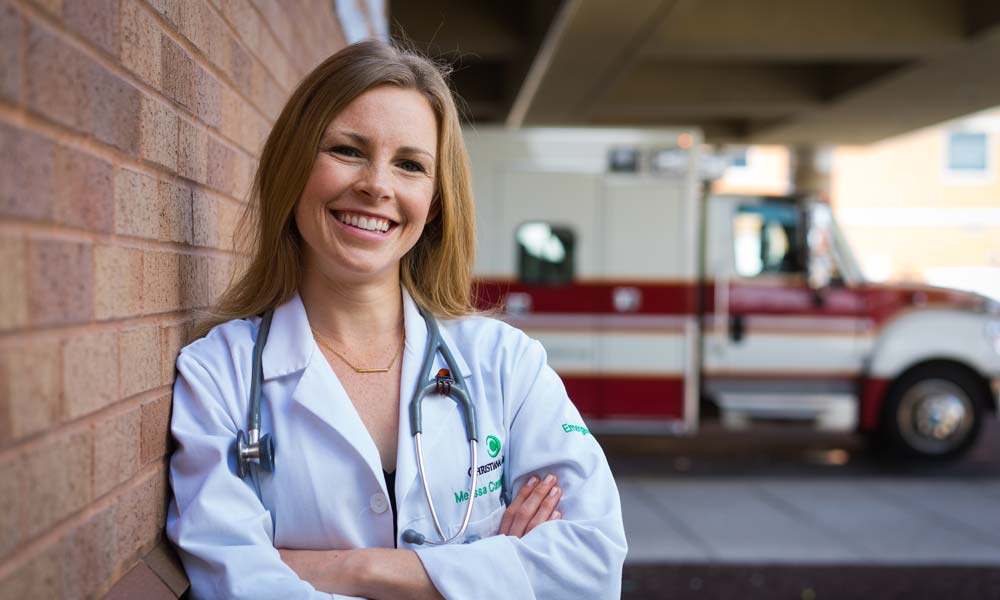 'JMU helped prepare me in multiple ways for medical school. It provided an excellent foundation of academic education as well as wonderful opportunities to be exposed to the medical field.'
---
Melissa Cummings ('11)
Major: 
Biotechnology
Highlights:
Graduated from med school in 2015; currently doing a three-year residency focusing on emergency medicine; found the liberal arts education she was exposed to at JMU as fulfilling as she did the science curriculum; is a highly accomplished distance runner.
Why are you a doctor?
There are many reasons why I became a doctor. I have always enjoyed a challenge and I have always enjoyed helping others. While I was growing up, I interacted with some fantastic physicians who treated me with a remarkable care and kindness that I want to emulate in my practice of emergency medicine.
How did your time at JMU prepare you for medical school?
JMU helped prepare me in multiple ways for medical school. It provided an excellent foundation of academic education as well as wonderful opportunities to be exposed to the medical field. Specifically, I had the privilege of helping to start a scribe program at Rockingham Memorial Hospital under the guidance of Dr. Claire Plautz. This was a sudden, nominal opportunity to be exposed to the medical field, specifically emergency medicine, and I would say definitely influenced me to choose the specialty that I did.
Where are you in your medical training?
I am currently a first-year resident at Christiana Care Health Systems in the emergency medicine department. This is my first year in a total of three years of residency. Residency comes after medical school, and the length of a residency varies from program to program and between specialties. I graduated from the Medical College of Virginia, now known as VCU School of Medicine, with a medical degree in May 2015. Prior to attending medical school, I completed five years at JMU and graduated in 2011. I like to tell people that I took a "victory lap" year, but this was done in order to help space out my academic workload because I knew I had a long road ahead of me with my goal of becoming a physician.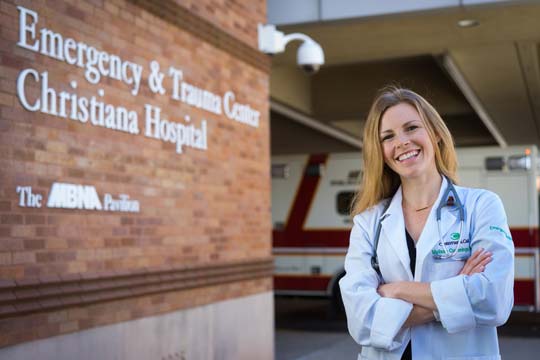 Did you have a favorite JMU professor?
Dr. Frances Flannery is one. She was my professor for my two favorite classes. I had her for World Religions and liked her so much that I took a second religion class that she taught just to learn from her again. She is a very kind soul and I felt a connection with her and wanted to learn from her as much as I could. Dr. Scott B. Lewis was my organic chemistry professor and he was another one of my favorite professors. I took both organic chemistry courses with him. He was a great professor and made a very tough class enjoyable. His office was always open and he challenged me to always do my best even when it felt impossible. Dr. Maureen Shanahan was my honors art history professor. She was wonderful. Her office was always open. She always had interesting lectures that were a welcomed change in topics from my science classes.
Favorite JMU class?
It's hard to choose one favorite, as you can tell by how many favorite professors I had! There were a lot of great classes to take and choose from. There are actually a lot of classes I wish I had taken before I graduated. JMU is a great place to go to school because it is a fantastic liberal arts college as well as having a strong science program.
Would you recommend JMU?
Absolutely! I am truly thankful for my education and collegiate experience at JMU. I found my passion for learning, medicine and running here.
---
Watch: JMU-Sentara-RMH Scribe Program (9:47)
---
Published: Wednesday, August 17, 2016
Last Updated: Friday, May 4, 2018