Office of the Provost
The power of connections: Relationships between students, professors and alumni boost careers
---
By Karen Doss Bowman
For Hailey Fleming, business is personal. Relationships with professors and networking opportunities with JMU alumni gave the 2015 graduate's career a jump start while she was a student. In turn, these connections led to internships and ultimately a full-time job right after graduation.
"JMU's College of Business emphasized networking and involvement in student organizations," says Fleming, who began working as a cloud solution specialist for Microsoft in July 2015. "As I became more and more active on campus, I was surrounded by other people who were so driven. It pushed me to do the same."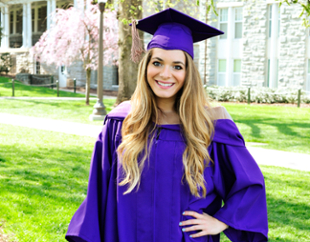 As a student, Fleming served as president of the Association for Information Systems (AIS), a technology organization on campus. This experience provided the opportunity for her to work closely with several faculty members in her major, computer information systems (CIS). She also took advantage of professors' office hours and made a point to drop by occasionally.
"Most of the professors have valuable industry experience to share," Fleming says. "They want students to succeed, and they will help with resumes or interviewing skills. And they have connections, so that if any opportunities come up, and you're at the top of their list, you're in a good spot."
Fleming was at the top of CIS professor Jeff May's list when an alumnus working for Booz Allen Hamilton called him to ask for recommendations for an intern. She was offered the position. During the spring of her senior year, Fleming presented research findings to the CIS Executive Advisory Board (EAB), opening up another networking opportunity. EAB member Michael Donlan, '91, an executive at Microsoft, was impressed and called about a month later to offer Fleming her current position.
Now Fleming wants to give back to her alma mater and offer students similar opportunities for success. She returned this fall to interview students on behalf of Microsoft.
"If I hadn't developed the relationships with my professors and gotten involved on campus to develop my interpersonal skills, I wouldn't have gotten these opportunities," Fleming says. "Once I took the first step, everything really snowballed into one amazing opportunity after another."
Published: Thursday, December 8, 2016
Last Updated: Thursday, January 4, 2018